Inaugural B4 Summer Festival to aid nonprofits
By Ken Keenan For Chronicle Media —

May 31, 2023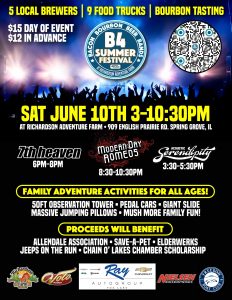 Bacon, bourbon, beer and bands will be the theme of the Chain O'Lakes Area Chamber of Commerce's inaugural B4 Summer Festival, running from 3-10:30 p.m. June 10 at Richardson Adventure Farm, 909 English Prairie Road, Spring Grove.
The brainchild of former Chamber president Steve Henley, currently the mayor of Volo, the fest is designed to provide a family friendly event while supporting local businesses, with an ultimate goal of raising funds to benefit five area nonprofit organizations.
"It was (Henley's) initial idea as a way to give back to the community," said Chamber Executive Director Therese Matthys, adding that Henley also introduced the four B's concept. "He came up with those B's, and Steve Wojdyla (vice-president of the Chamber and the event's chairman) came up with the B4, considering the date (June 10) is just before summer begins. They wanted it to be unique."
In addition to live music from established headlining acts Modern Day Romeos, 7th Heaven and Serendipity, nine area food trucks will be on-site, offering a wide assortment of bacon-themed — and non-bacon — menu items. Five area breweries will feature a variety of different craft beers, and a private bourbon tasting will be held as well.
Family activities include a 700-foot zipline, a 50-foot observation tower, a massive jumping pillow, pedal cars, a playground and a giant slide.
"The Richardson Farm (also home of the world's largest corn maze) is a very popular attraction," Matthys said. "It has a big enough parking lot to hold the fest, and we wanted it to be family friendly with all the kids' activities."
The five nonprofit organizations are Allendale Association, offering a variety of therapeutic programs and services for children (and their families) with emotional and behavioral challenges; Save-A-Pet, a no-kill cat and dog rescue outfit with a full-time adoption center for abused, neglected, injured or lost animals; Elderworks, providing help with senior housing and elder care solutions, free of charge; Jeeps on the Run, a group of philanthropic Jeep owners who raise money to support Toys for Tots and various other causes; and the Chain O'Lakes Area Chamber of Commerce High School Scholarship Fund, which provides scholarships to one college-bound high school senior from Richmond-Burton, Grant and Wauconda high schools.
Matthys said Chamber members voted to determine which nonprofits would be represented, with an emphasis on different categories in order to create a balance.
"We wanted diversity in the nonprofits, so we came up with five different things," Matthys said. "Next year, there will be four or five newer things. We like to support small and local businesses, and community needs as well. Everyone involved in the festival, in all aspects, are members of the Chamber. It's important to use members as much as possible, and this is one of those ways."
Matthys also said, "We hope to get as many attendees as possible. It's a family friendly, fun event that everyone can enjoy. There's a little bit of something for everyone, and you'll be supporting local food trucks and brewers — and collectively supporting the community as well."
Admission to the B4 Summer Festival is $12 (general admission) and $50 (VIP). For more information, visit www.chainolakeschamber.com.