Lake in the Hills set to host Summer Sunset Festival
August 30, 2023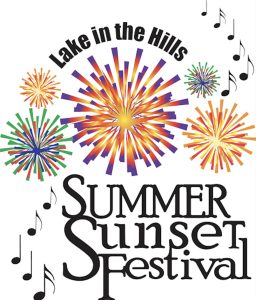 With school back in session and autumn just around the corner, Lake in the Hills will bid farewell to the summer season with its annual Summer Sunset Festival, to be held at Sunset Park Sept. 1-3.
The fest includes a wide range of activities, including a carnival, car show, craft fair and business expo, live music, a parade, the REC2U Kids Zone, wine tasting, and a variety of food and beverage vendors.
Following Carnival Preview Night (beginning at 5 p.m. Thursday, Aug. 31), the fest officially gets underway on Friday (3-10:30 p.m.), continues with the same hours on Saturday, and wraps up from 11 a.m. to 10:30 p.m. on Sunday.
Highlights on Friday include the Classic/Custom Car Show (5-9 p.m.). All show cars, trucks and motorcycles are welcome, beginning with load-in at 4 p.m. In addition, rock band Gold & Platinum will perform a mix of old favorites and new hits from 7:30-10:30 p.m. on the Main Stage.
The Sunset Festival Parade gets things started on Saturday, beginning at 10 a.m. at Sunset Skate Park and finishing at Sunset Park's main parking lot. Participants include marching bands, martial arts groups, dance groups, colorful floats, clowns and more.
Another highlight of the fest is the REC2U Kids Zone, sponsored by the Lake in the Hills Recreation Division. Open from 1-5 p.m. Saturday and Sunday, the Kids Zone includes crafts, games, walk-around entertainment and more.
While the kids play, adults (ages 21 and up) can visit the Wine Tasting Tent from 4-10:30 p.m. Saturday and Sunday. Admission is $15 per day, and includes all-day access to the tent, as well as seven premium wine tastings and a souvenir wine glass. Additional tickets will be available for $10 (for a strip of seven tasting tickets or $10 for a full-pour ticket).
Main Stage acts on Saturday include rockers Six Speed Tranny (4-5:30 p.m.); Motown/R&B/funk/soul/rock cover band Brass from the Past (6:30-8 p.m.); and modern rock cover band Mike and Joe (9-10:30 p.m.).
The festival's Craft Fair and Business Expo will be held from 11 a.m. to 5 p.m. Sunday. Attendees can browse through the fair and learn about products and services offered by local artisans, crafters and business representatives.
The musical lineup on Sunday features Blue Brothers tribute band, The Blooze Brothers (3-4:30 p.m.); country/pop/rock cover band Hillbilly Rockstarz (5:30-7 p.m.); and Motown/disco tribute band Libido Funk Circus (8-9:30 p.m.). A fireworks show will follow to conclude the weekend's festivities.
Admission to the Summer Sunset Festival is free. Carnival ride tickets, and food and beverages, are available for purchase. For more information, visit www.summersunfest.com.