Central Illinois Special Olympics athletes compete during golden year
By Holly Eitenmiller For Chronicle Media —

May 6, 2018
2018 is a very special year for the Special Olympics.
Fifty years ago, on the north lawn of Soldier Field in Chicago, the first Special Olympics games took place, launching a continuing global movement for athletes with physical and intellectual disabilities.
On April 29, more than 300 athletes and 150 volunteers joined at EastSide Centre in East Peoria for the 2018 Region G Spring Games. Region G provides programming for people in the counties of Ford, Iroquois, Livingston, Marshall, McLean, Peoria, Tazewell and Woodford.
The games were moved from Normal West High School this year.
"The games were moved from Normal because we grew. We grew in agency size and we've added the Peoria school district to our agency list," Region G director Jim Fitzpatrick said. "EastSide is much bigger and has a very nice Olympic feel."
The Knights of Columbus presented colors at the ceremony and Hannah Baker of Olympia High School performed the National Anthem at the opening ceremonies.
The torch carriers were Kathy Riddle of Morton High School, Morgan Brandstatter of Illinois Valley Central High School, Tyler Hall of The Illinois River Valley Special Recreation Association and the Heart of Illinois Special Recreation Association's Crystal Lance.
Thanks to an increase in volunteers, Peoria School District 150 was included in the 2018 games, and the EastSide location was more convenient for the many of the participants, he said.
The Special Olympics organization acts as a governing body, similar to the Illinois High School Association, by serving as a host, while local groups, such as the Heart of Illinois Special Recreation Association, provide Special Olympics training programs.
Among the Olympic-style individual and team sports the Special Olympics offers are equestrian, sailing, judo, triathlon, and gymnastics. At East Peoria's track and field event, athletes competed in throwing, racing and jumping competitions that included relays and javelin tossing.
Athletes must train for eight weeks to participate in Special Olympics games, and all who medaled gold at the East Peoria event qualify to compete in the Special Olympics Illinois State Summer Games.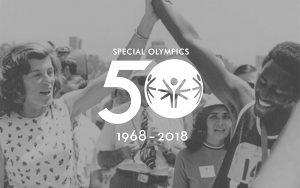 As the Special Olympics motto goes, "Everyone is a Winner", and participation is not so much about the medals, as it is the camaraderie for the intellectually and physically challenged athletes.
"That's the whole crux of it, getting them involved and around their peers and meeting other families," Fitzpatrick said. "The family component is huge, and we also have leadership programs for the athletes, global messengers, a healthy athletes program that helps athletes with medical screenings and helps them with things, like if they need glasses."
Volunteers, of which Fitzpatrick said the organization could use more, are the backbone of the Special Olympics, and he said he began volunteering in high school, eventually becoming a regional director four years ago. Vanessa Compos and her fiancé Brandon Soto, both of Clinton, volunteered for the spring games at East Peoria
"My dad volunteered for years, and he really pushed me to become involved," Compos said. "We've done the polar plunge and we volunteer for events like this, it's just really fun and it's a great feeling helping the athletes."
The Special Olympics Illinois Summer Games will be June 15-17 at Illinois State University and Illinois Wesleyan. The 2018 Special Olympics USA Games will be held in Seattle, Wash. from July 1-6, and more than 4,000 athletes and coaches are expected to participate.
Chicago, however, will be the host of a number of special events commemorating the organization's 50th anniversary.
Related content Special Olympics marks 50th anniversary this summer
"We're having our first Unified Cup, where we'll have intellectually challenged athletes teaming with those with physical disabilities," Fitzpatrick said. "We'll have unified sports, golf, bocci. Twenty-four unified teams are expected to compete."
The inaugural Special Olympics Unified Cup is slated for July 17-19, to be followed by the 50th Anniversary Law Enforcement Commemorative Torch Run on July 20. The Special Olympics Global Day of Inclusion and a live concert event at Chicago's Huntington Bank Pavilion will happen July 21.
Police officers and athletes will join together July 20 for the torch run, which will end at the north lawn of Soldier Field off of McFetridge Drive, where the Special Olympics Eternal Flame of Hope will be ignited. Officials broke ground March 2 at the site where the first Special Olympics games were held in 1968.
Founder Eunice Kennedy Shriver, sister of President John F. Kennedy and mother of writer and advocate Maria Shriver, was considered a pioneer for the rights of people with intellectual disabilities.
Shriver was inspired by her sister, the oldest of the Kennedy female siblings, Rosemary Kennedy, who endured severe intellectual disabilities following a 1941 surgical procedure.
—- Central Illinois Special Olympics athletes compete during golden year —–