War against opioids far from over in Central Illinois
By Dave Fidlin For Chronicle Media —

November 1, 2017
While outreach efforts and unorthodox programs are helping, officials across Central Illinois say more work still needs to be done in the battle against abuse of opioids and other dangerous, highly addictive drugs. 
A few pieces of anecdotal information show signs of hope, but statistical data indicates more work is still needed to stem the tide of overdoses, many leading to eventual deaths. 
Jamie Harwood, Peoria County coroner, said his region faces the prospect of notching one to two overdose-related deaths per week, on average, this year. The figure, he said, is based on statistical information from the first nine months of 2017. 
"I think the community has known there has been a problem," Harwood said. "But I don't think they knew it was this bad." 
Heroin frequently has been cited as the drug with the most devastating affects.  
Data from the Illinois Department of Public Health, for example, noted 1,877 Illinoisans died of opioid-related overdoses in 2016. More than half of those deaths — 1,002, to be exact — were attributed to heroin. 
But heroin is not the sole source of the problems that have become more pronounced in recent years. Fentanyl and oxycodone have also been noted for their highly addictive nature. 
While it remains a smaller fraction of the overall problem, Nirav Shah, director of IDPH, said the state agency is especially concerned about synthetic opioids, such as fentanyl.  
Deaths linked to this drug category are increasing faster than heroin and other drugs in the opioid family.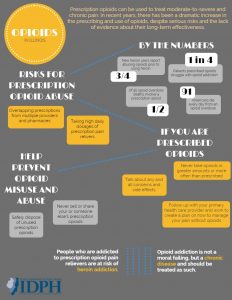 "While fatal overdose deaths involving opioids have increased in Illinois during the past five years, the number of deaths involving synthetic opioids has increased even more dramatically," Shah said in a statement.  
The solution, Shah said, is "to raise awareness and recognize this growing problem and work together to prevent these deaths and the devastating pain family and friends experience." 
Linda Barber is clinical supervisor at the Bloomington-Normal Treatment Center, a facility that has helped provide recovery options for about 160 persons struggling with drug addiction.  
Based on information her center receives, Barber said about 40 percent of Central Illinoisans struggling with opioid addiction do not receive treatment of any kind. 
"I think this area is underserved," Barber said. "There's plenty out there that need treatment and just aren't getting it." 
While a person needs to want treatment to receive it — and that, at times, is an impediment — Barber said there are logistical barriers as well, particularly in rural areas where patients might need to drive an hour or more to a facility with the resources available to address such issues. 
Barber said the Bloomington-Normal Treatment Center was borne out of a need in the community. 
"Our patients come here because they're so tired of being sick," Barber said. "They're tired of not being able to function. We provide a very unique service in this community." 
In late September, the IDPH in a report noted the drug crisis is problematic in rural areas.  
As part of its recognition, the state agency announced it will be dolling out $2 million in funds received from the federal government over the next four years. The funds are designed to help equip law enforcement personnel. 
"Rural areas typically do not have as many emergency medical service resources, so law enforcement officers are often the first to arrive at the scene of an overdose," Shah said in a statement.  
Shah added, "To combat the number of overdose deaths, it is vital that we equip law enforcement in rural areas with the training and resources to help prevent thousands of deaths each year."  
A number of law enforcement agencies have taken greater strides toward addressing the drug epidemic.  
The Pekin Police Department, for example, is among the law enforcement agencies taking part in Safe Passages, a program encouraging residents addicted to heroin and other opioids to turn in all drugs and paraphernalia and agree to enter a treatment facility. 
Pekin Police Chief John Dossey said participation was strong as the city rolled out Safe Passages.  
Speaking to initiatives such as Safe Passages, Dossey said, "It's a mindset change from the police officer's perspective. We're now looking at it from a problem-solving standpoint." 
Harwood said area coroner's offices are also changing protocol. In Peoria County, officials within Harwood's agency will seize a deceased person's medications immediately so they do not fall into the wrong hands. 
"It's a small contributive effort," Harwood said. 
—  War against opioids far from over in Central Illinois   —-