All eyes and money on Illinois's 12th and 13th districts
By Bob Pieper for Chronicle Media —

October 31, 2018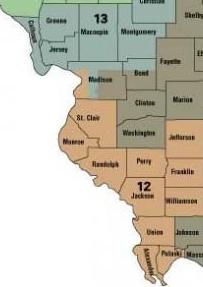 Tight, expensive, high-profile U.S. House races on Nov. 4 Metro East ballot
A pair of Metro East congressional districts remain among the most closely watched in the nation as Democrats endeavor to reclaim control of the U.S. House of Representatives during the Nov. 6 general election.
In the 12th District House race, incumbent Republican U.S. Rep. Mike Bost of Murphysboro faces Democrat Brendan Kelly of Swansea, and Green Party candidate Randy Auxier of Murphysboro. An independent New York Times Upshot/Siena College last week found Kelly had risen to a nine-percentage-point lead over the incumbent Republican.
Bost held a one percentage point lead over Kelly in the Times poll in September and in a Global Strategies Group poll conducted for the Democratic Congressional Campaign Committee (DCCC) in October.
Incumbent Republican 13th District U.S. Rep. Rodney Davis of Taylorville leads Democratic challenger Betsy Dirksen Londrigan of Springfield by one percent, according to internal Democratic polling, conducted Oct. 1-4 by GBA Strategies.
However, a Davis campaign poll conducted Sept. 29 – Oct. 1, by America Vision shows the incumbent with a four-point lead.
Both Bost and Davis are being targeted by the DCCC in an effort to flip at least 23 congressional seats during next week's election.
Cook's Political Report, a nonpartisan polling organization, slotted both the Illinois 12th and 13th congressional races as leaning Republican as of Friday, Oct. 26.
Key endorsements
President Donald Trump formally endorsed Bost during an Oct. 27 rally at the Murphysboro Airport. U.S. Secretary of Agriculture Sonny Perdue and the congressman held a Farmer's Forum, Oct. 24, at Eckert's Orchard in Belleville. Vice President Mike Pence spoke at a July fundraiser for Bost in O'Fallon. U.S. Speaker of the House Paul Ryan was scheduled to visit the 12th District on Oct. 23 on Bost's behalf .
Kelly has been endorsed by former President Barrack Obama and former Vice President Joe Biden. He has also garnered endorsements from Democratic Illinois Senators Tammy Duckworth and Dick Durbin, Democratic Illinois 17th District U.S. Rep. Cheri Bustos, and the Illinois Democratic County Chairs' Association.
Nationally prominent civil rights figure and Democratic U.S. Rep. John Lewis of Georgia appeared at a campaign rally for Kelly and Illinois Attorney General candidate Kwame Raoul, Oct. 17, in Belleville.
Bost has been endorsed by African-American Cairo Mayor Tyrone Coleman.
Both the 12th and 13th district have seen unusual struggles for labor union support; which has traditionally gone to Democrats.
Bost says he has been endorsed by 11 labor organizations including: The Illinois Education Association (IEA), The Council of Prison Locals C-33, a part of The American Federation of Government Employees (AFGE); The National Council of Coal Miners Political Action Committee (COMPAC), the political arm of the United Mine Workers of America (UMWA); The Associated Fire Fighters of Illinois (AFFI); and The St. Louis – Kansas City Carpenters Regional Council, which represents 33 locals across the region, including those in Southern Illinois.
Kelly has been endorsed by The United Steel Workers, Illinois AFL-CIO, AFL-CIO International, AFSCME Council 31, Communication Workers of America (CWA) Local 4217, International Association of Firefighters Local 2, Illinois State Council of Association of Machinists and Aerospace Workers (ISCAMAW), IAM Lodge 660, American Federation of State, County, and Municipal Employees (AFSCME), International Brotherhood of Electrical Workers (IBEW), Illinois Federation of Teachers, Illinois Pipefitters Trade Association, International Association of Iron Workers, Southwestern Illinois Laborers' District Council, Teamsters Joint Council 25 and Local 50, United Food and Commercial Workers Local 881, Sheet Metal Workers, and the Egyptian Building Trades Council, according to the candidate's website.
Kelly also has endorsements from End Citizens United, the Human Rights Campaign, the Illinois Democratic County Chairs' Association, League of Conservation Voters, Sierra Club, VoteVets, and the Farm Bureau chapters in every county in the 12th District.
12th District issues
Over recent weeks, the GOP-based Congressional Leadership Fund has sponsored a series of television attack ad claiming Kelly, currently St. Clair County State's Attorney, has been too liberal in approving plea agreements for felons.
Kelly, the Illinois State Crime Commission's 2018 State's Attorney of the Year, responded with endorsements from 25 prominent Metro East law enforcement officials.
All three 12th District candidates sparred in a televised debate, Oct. 23, in the studios of WSIU in Carbondale. During the debate, Bost often emphasized his legislative record.
Kelly frequently cited examples of Metro East residents who are positively or negatively affected by current federal policy. Auxier emphasized he was open to public input on police and called for progressive projects such as high-speed rail.
Kelly criticized Bost after the Republican opted out of a previous debate in Belleville on Oct. 16. He has also criticized the Republican for holding mostly closed-door fundraising events instead of making appearances at public events such as candidate forums.
Perhaps in response, Bost was on-hand for a "Taxpayer Revolt Rally," on Oct. 24 at American Legion Post 365 in Collinsville, as well as the same day's Farmer's Forum.
Green Party candidate Auxier participated in both debates and has also been making the rounds of local candidate forums around the district, according to his website.
Most polls do not provide data on Auxier. His website lists no formal endorsements.
However, the Belleville News Democrat noted the Carbondale philosophy professor could ultimately place a pivotal role in the 12th District election. Given the tight race in the district, Auxier could unintentionally provide Bost a crucial margin of victory by drawing liberal support from Kelly, the newspaper postulates.
The Bost campaign has taken in a total of $2,462,457.37, according to final round of pre-election campaign finance reports, due to the Federal Election Commission on Oct. 25.  The campaign has spent $1,750,198.85; leaving a cash balance of $698,367.89 and $8,281.72 in debt.
The Kelly campaign reports total receipts of $2,903,802.34; with total disbursements of $2,699,360.27, for an ending balance of $204,442.07 with no debt.
The Auxier campaign reports total receipts of $12,468.34 with $12,323.70 in disbursements; leaving a negative campaign fund balance of $632.25.
13th District summary
In the 13th District, incumbent Republican Davis is endorsed by state or local affiliates of The United Association of Journeymen and Apprentices of the Plumbing and Pipe Fitting Industry, National Association of Letter Carriers, National Air Traffic Controllers Association, and the Associated Fire Fighters of Illinois, Laborers' International Union of North America, International Union of Operating of Engineers, United Mine Workers of America, American Federation of Government Employees, the Chicago Regional Council of Carpenters, and International Union of Painters and Allied Trades.
The candidate's website lists no further endorsements.
Vice President Pence spoke at a private Davis fundraiser, Oct. 12, at a Springfield country club. House Speaker Ryan held a closed-door meeting with Davis supporters in Edwardsville, Oct. 23, then toured the World Wide Technologies' warehouse with the congressman.
Londrigan is supported by locals or political action committees of the SEIU, the United Auto Workers, United Steel Workers, Teamsters, Illinois AFL-CIO, AFSCME, IBEW, CWA, United Food and Commercial Workers International Union, International Association of Machinists and Aerospace Workers, and the National Association of Social Workers.
She is endorsed by former President Obama; Illinois U.S. Sens. Durbin and Duckworth; U.S. Sen. Kirsten Gillibrand of New York, Illinois U.S. Reps. Jan Schakowsky of the Ninth District as well as Rep. Bustos; Illinois Secretary of State Jesse White and Comptroller Susana Mendoza; Springfield Mayor Jim Langfelder, Urbana Mayor Diane Wolfe Marlin, 48th District State Sen. Andy Manar; State Reps. Sue Scherer of the 96th District and Jay Hoffman of the 113th; Jersey County State's Attorney Benjamin L. Goetten; Bond County Democratic Party Chair Dan Sidwell; Sangamon County Democratic Party Chair Doris Turner; former 49th District State Senator Deanna Demuzio, and Former 99th District State Representative Vickie Moseley.
Her candidacy is backed by a number of mostly left-wing special interest groups including End Citizens United, the Planned Parenthood Political Action Fund, National Organization for Women, Behind the Arc, KFT Illinois, the J Street PAC, Giffords Gun Safety Campaign , Human Rights Campaign, Sierra Club Foundation, Social Security Works, LCV Action Fund, New Dem PAC, JAC, Moms Demand Action, Illinois Alliance for Retired Americans and Citizen Action Illinois.
While in Southwestern Illinois, Rep. Lewis also personally stumped for Londrigan.
Davis and Democratic challenger Londrigan sparred over the effect of President Trump's tax cuts on the economy of southern Illinois, Supreme Court Justice Brett Kavanaugh, and health care, during a trio of debates on Oct. 15 in Springfield, Oct. 19 in Urbana; Oct. 22 at Millikin University in Decatur.
The Davis campaign reported total receipts of $3,080,426.10 at the final pre-election federal reporting deadline. The campaign has spent $2,217,939.18. It had $1,259,286.98 in cash on hand and no debt, as of the reporting deadline.
The Londrigan campaign reports total receipts $3,035,861.69; with total disbursement of $1,914,279.52. As of the reporting deadline her campaign had $1,121,582.17 in cash on hand and no debt.