Joint transportation command at Scott Air Base fights for full funding
By Bob Pieper for Chronicle Media —

January 23, 2019
Full resourcing of the United States Transportation Command (USTRANSCOM ) was among the topics as U.S. Sen. Tammy Duckworth (D-Chicago), a member of the U.S. Senate Armed Services Committee, met this month with U.S. Air Force Secretary Heather Wilson to discuss Air Force execution of the National Defense Strategy and related initiatives to strengthen training and development of new capabilities.
Headquartered at Scott Air Force Base, USTRANSCOM is the military joint command that provides communications and logistics services to the U.S. Army, Navy, Air Force, and Marines, as well to other defense agencies, government organizations and the command's own subsidiary units.
It encompasses the Air Force's Air Mobility Command, the Navy's Military Sealift Command and the Army's Surface Deployment and Distribution Command, as well as the military's Joint Enabling Capabilities Command, which coordinates activities among the three.
Its various components include the Joint Operational Support Airlift Center (JOSAC), which specializes in the airlift of senior defense officials within the continental United States, and the Air Force's 375th Air Mobility Wing, both also headquartered at Scott AFB.
Scott AFB is generally considered the largest employer in Southwestern Illinois and the second largest in the St. Louis area.
Nearly 5,000 federal civilian employees are employed there along with approximately 5,500 active duty military personnel. Some 2,400 Air National Guard and Air Force Reserve members are assigned there.
President Donald Trump in October called for the nation's fiscal year 2020 budget to include a 2 percent cut in defense allocations as part of an overall decrease in federal spending. That would reduce the nation's defense budget from $716 billion in fiscal year 2019 to about $700 billion in fiscal year.
White House staff note that is less than the 5 percent budget the president is requesting from all other Cabinet-level departments.
Then-Secretary of Defense James Mattis did not immediately comment and did not cite fiscal issues when he resigned his post on Dec. 21.
However, during a Jan. 12  presentation to the annual Reagan Defense Forum in Simi Valley, Calif., Mattis called for Democrats to resist defense funding cutbacks, citing America's renewed rivalry with Russia and China.
USTRANSCOM's commanding officer, Army General Stephen R. Lyons, has yet to comment publicly on potential funding cuts.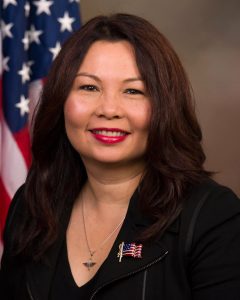 However, during April 2018 testimony before Congress, Air Force General Darren McDew, then-in charge of the command, noted USTRANSCOM is facing a range of sometimes unprecedented challenges.
"As future conflicts become increasingly dynamic, U.S. forces require the agility to respond quickly, across traditional regional boundaries with a variety of strategic capabilities," Gen. McDew said. "Emerging contested environments, to include cyber, pose a significant challenge to the transportation and distribution network. Sea-lanes, which have not been contested for U.S. forces since World War II, will likely be contested in the next major (conflict). The assumption that United States forces will have uncontested access to international airspace and sea-lanes in the future is likely no longer valid."
To meet its transportation obligations, USTRANSCOM must rely on contracted private carriers — which do not have military-grade security and are particularly vulnerable to cyber attack, Gen. McDew explained. The command is responding with new cybersecurity systems for its private-sector transportation contractors.
Complicating budget discussions at USTRANCOM, increased government scrutiny of just such contractual arrangements and a 2017 audit that found some of the command's accounting functions do not meet federal standards.
Meanwhile, both staff training and equipment adequacy for commonly-performed, but potentially risky, inflight refueling — also under USTRANSCOM's jurisdiction — have become the object of concern.
The death of five U.S. Marines in a Dec. 7 refueling accident off the coast of Japan has heightened concerns over recent weeks,  however, neither USTRANSCOM nor Air Mobility Command indicate whether their personnel were involved in the incident.
The Air Force, on Jan. 10, formally accepted the first of its new Boeing KC-46A Pegasus aerial tankers for use in refueling operations.
"This is a major milestone for the next generation tanker and will allow airmen to begin operational testing and flight training," the Air Mobility Command declared in a statement.
Delivery was originally anticipated in 2015 however, the Air Force identified deficiencies in developmental testing of the aircraft's remote vision system, which Boeing has agreed to fix at its expenses.
The Air Force says it now has mechanisms in place to ensure Boeing meets its contractual obligations, while initial operational testing and evaluation continue.
Duckworth, herself a former Army Reserve logistics officer, emphasized "the importance of focusing on enhancing investments in military logistics and transportation infrastructure, including fully resourcing the United States Transportation Command," in a statement last week.
"Our transportation and logistics infrastructure is vital to the strength of our Air Force and our entire nation. The ability to project power and prevail in a large-scale military conflict requires modernizing our support and sustainment capabilities," Sen. Duckworth said. "As the home of U.S. Transportation Command, Scott Air Force Base plays a critical role in our overall military readiness, and I look forward to working with Secretary Wilson to ensure we are making the investments necessary to effectively implement the national defense strategy."
Duckworth is also a combat veteran and a former Army Reserve helicopter pilot.
In August of last year, she met with and received a briefing from Col. Leslie A. Maher, commander of the 375th Air Mobility Wing and Col. Joseph R. Meyer, the wing's vice commander, at Scott AFB.
The Belleville-based Belle-Scott Committee, one of the nation's oldest civic support groups for a military installation, has yet to issue a formal statement on potential budget cuts affecting USTRANSCOM.  The organization has, in the past, often mounted efforts against base closings or other military cutbacks.