Metro-East Fourth of July celebrations
Chronicle Media —

July 2, 2015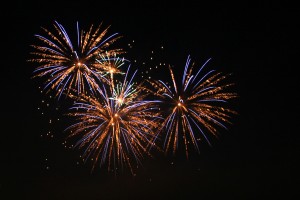 America's Independence Day celebrated throughout Metro-East
Events will be held throughout the Metro-East in honor of July 4, the day Americans set aside each year to celebrate patriotism and freedom.
The federal holiday marks the country's official separation from Britain in 1776, under the provision of the Declaration of Independence however, the Fourth of July is now celebrated with fireworks, family gatherings, barbecues, ceremonies, festivals and parades.
The Chronicle provides you with a comprehensive listing of events occurring throughout the Metro-East:
Alton Riverfront – The Friday, July 3 event begins with performances by musical acts at Liberty Bank Alton Amphitheater beginning at 6:00 p.m. Gates open at 5:00 p.m. Fireworks begin around 9:15 p.m. with the Mississippi River and iconic Clark Bridge as a backdrop. Information: http://www.visitalton.com/, (618) 465-6676
Carlyle Lake- 4th of July Dam Jam & Fireworks – A full day of live music, a sandcastle building contest, and a volleyball tournament, concluding with a fireworks display. The fireworks can be viewed by boat or shore in the Dam West and East Recreation Areas.  Admission: free. Information: 618-594-2484, www.playandstaycarlyle.com/
Columbia 4th of July Bike Parade and Celebration –The day begins with decorated bikes and riders in creative patriotic costumes riding down Columbia's historic Main Street.  Later in the day, the American Legion offers washer and kloepper tournaments, music and refreshments. Fireworks start at dusk.  618-281-7144 http://www.columbiaillinois.com/
Dupo July 4 Picnic in the Park – Dupo Community Park (905 Bluffview Elementary Ln.) offers food, rides, games, live music, washers tournament and a large fireworks display. Admission: free
Flora 4th of July Festival & Fireworks – For information call 618-662-8313.
Godfrey Family Fun Fest  – Glazebrook Park (1401 Stamper Lane) offers vendors, inflatables, a climbing wall, a zip line, a cow train, games, concessions, arts and crafts, a fire truck and other attractions on July 3, begin at 5 p.m. A fireworks display begins around 9 p.m. Admission: free Information: 618-466-1483
Granite City Patriots in the Park – A five-day carnival runs July 1-5. Other events include "Patriot Idol," car show competitions, as well as parachute demonstrations. Fireworks are scheduled for July 4, at 9:15 p.m. at the Coolidge Middle School (3231 Nameoki Road). Information: 618-877-3059
Highland July 4 Fireworks Display – Highland offers food from various vendors and fun family activities in Glik Park (1 Nagel Dr.).  Admission is free.  Information: 618-651-1386
Kaskaskia July 4 Liberty Bell of the West Patriotic Celebration –The village on July 4 offers visitors a chance to ring its Liberty Bell of the West – a gift from King Louis XV of France, as well as enjoy patriotic music & tributes, French Marine Salute, traditional food and tours. Free admission. Information: 618-826-2667
Mascoutah Old Fashioned July 4th – Mascoutah offers music, food, drinks, carnival rides, pony rides and more beginning at 4 p.m. in Scheve Park (6th St. & Harnett). Fireworks begin at 9:30 p.m.  For more information contact: Kari Haas, city clerk at 618-566-2964, extension 106 or khaas@mascoutah.com.
Mount Vernon 4th of July Celebration – Mount Vernon's five-day (July 1-5) offers entertainment, food vendors, carnival, games, beer garden and a fireworks display in Fairview Park Plaza. Information:    http://www.mtvernon.com or (618) 532-5910
Steeleville 4th of July Celebration – Steelville's 149th Independence Day celebration runs July 1- 4. Carnival rides will be in operation on July 1- 3, from 6 p.m. to midnight and on July 4, from 8 a.m. to midnight. The annual Firecracker 3K Race kicks off festivities on July 4, beginning at 9:30 a.m. (Register by calling 618-965-3461.)  The city's annual July 4 parade, (theme: "Coming Home") begins at 10 a.m. Fireworks begin that evening at 10 p.m. For additional information, call the Steeleville American Legion (314-965-3362)
Troy 4th of July Fireworks – The Tri-Township Park District (409 Collinsville Road) offers fireworks on July 4 beginning at dusk. Information: 618-667-1040