Metro East news briefs
July 10, 2019
Mayors' group considers
major flood prevention efforts
The mayors of Metro East's two most flood-prone communities will outline broad-based, flood prevention proposals during the eighth annual meeting of the Mississippi River Cities and Towns Initiative, Sept. 17-19 in Memphis, Tennessee.
"The 2019 Flood Season: Resilience, Recovery, and the Path to Systemic Solutions," will be the theme of an opening day breakfast presentation by Grafton Mayor Rick Eberlin and Sharon Weston Broome, the mayor of Baton Rouge, Louisiana.
Shortly thereafter, Alton Mayor Brant Walker, will moderate a panel discussion on "Infrastructure — Projects, Investments, Water and Resilience."
Emerging as a new, potentially powerful ally: Rotary International. The MRCTI and international service organization are expected to announce a new partnership on river infrastructure during the meeting.
Also to be announced during the meeting:
Buildout of an MRCTI program on water-borne plastic waste, developed in cooperation with the United Nations and other groups;
Installation of the first in series of water nutrient monitors by the U.S. Department of the Interior, MRCTI, and the American Queen Steamboat Company.
A new partnership with the international not-for-profit CDP and Sciens Capital to link cities to water infrastructure funds.
Talks with the Lower Mississippi Conservation Committee on "a new economic profile" for the area downstream of Illinois.
Bi-State studies St. Clair County bus service
The Bi-State Development Agency has retained the Carlsbad, California-based consultancy Transportation Management & Design, Inc., to conduct a comprehensive, operational analysis of existing MetroBus service in St. Clair County.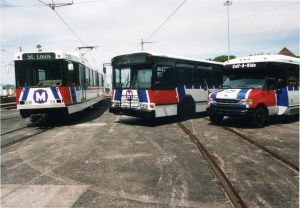 The consultants are charged with recommending improvements to make service "more attractive, productive and efficient," according to Jessica Mefford-Miller, the executive director of Bi-State's Metro Transit operations.
Bi-State provide bus and light rail service in St. Clair County under contract with the St. Clair County Transit District.
The $235,582 study was approved during the April meeting of the Bi-State Board of Commissioners. It is to be completed within nine months.
Illinois American buys Alton water system
Illinois American Water President Bruce Hauk has formally announced his company's acquisition of the Alton Regional Wastewater System. The purchase adds approximately 23,000 new wastewater customers to the company's customer base in Southern Illinois. The system serves customers in Alton and nearby communities of Bethalto and Godfrey. The Alton Board of Aldermen the sale in April 2018. The Illinois Commerce Commission approved the sale on June 26.  The sale was completed and announced June 27.
Officials warn of 'home warranty' fraud
Madison County Community Development officials are warning county residents of what may be a fraud targeted at property owners.
An East Alton resident recently brought a postcard to the county office informing residents their home warranty was set to expire and they needed to contact a 1-855 number for more information, according to Community Development Administrator Trudy Bodenbach.
The information appears to be geared toward individuals who have taken part in programs offered by the MCCD.
"Madison County doesn't do warranties so there are none to expire," Bodenbach noted.
The postcard states that "without a home warranty in place, you are at risk of being financially liable for any and all repairs. However, you still have time to activate a service contract on your home before it's too late."
Just last month, the community development department issued warnings about a similar scam, which has drawn the attention of the U.S. Department of Health and Human Services.
The HHS Office of Community Services warned the department of fraudulent activity by individuals claiming to represent the federal Community Service Block Grant program.
Individuals unrelated to CSBG are contacting people via telephone, mail, email, social media and text message offering CSBG funding or services in exchange for a fee, the HHS says.
"We ask the public to please contact Community Development if you receive one of these postcards or disregard it altogether," Bodenbach said.
Madison County resident receiving such potentially fraudulent offers are urged to contact the MCCD at 618-296-4299.
USDA studies statewide
disaster status for Illinois
Gov. J.B. Pritzker is urging U.S. Agriculture Secretary Sonny Perdue to declare a Secretarial Disaster Declaration for Illinois farmers, in a letter sent to the USDA Wednesday.
A State Emergency Board, convened by the U.S. Department of Agriculture's Farm Services Agency, is recommending that all 102 counties in the State of Illinois be declared agriculture disaster areas.
However, USDA staff were still reviewing the recommendation at the Chronicle's deadline and U.S. Agriculture Secretary Sonny Perdue had not yet issued a Secretarial Disaster Declaration for Illinois.
In a July 3 letter to Purdue, Pritzker noted that a large winter snow melt followed by excessive rain during the normal planting season has caused rivers to rise to historic levels and soils to become saturated over the entire state.
"For months, our state has been battling historic flooding, causing untold damage to homes, businesses, and farms across Illinois," said Pritzker. "For our farmers, this has meant delaying, reducing, or even eliminating planting, hurting a core state industry and impacting working families across Illinois. While the state will continue to do everything we can to help, a Secretarial Disaster Declaration will provide much needed aid to impacted farmers in Illinois and I am hopeful the USDA will make this declaration."
The agricultural disaster declaration would provide access to federal resources for farmers and agri-businesses who experienced problems during the spring planting season.