Metro East's population continues to decline
By Bob Pieper For Chronicle Media —

October 9, 2017
The total population of the St. Louis Metro East continues to decline, according to the latest U.S. Census Bureau estimates.
Data from The Census Bureau's latest Current Population Survey, released Sept. 14, indicate Metro East lost about 1,400 residents from 2015 to 2016 and has lost around 10,000 residents since the start of the current decade.
The Census Bureau issue current population estimates each year to update the findings of its decennial census, conducted at the beginning of each decade.
The latest figures represent the estimated populations on July 1, 2016.
Continued population lost in Metro East is not surprising given regional trends, analysts note. Illinois (current population: 12,801,539) lost 37,508 residents from mid-2015 to mid- 2016 — more than any other state in the nation. Across the Mississippi River, the neighboring State of Missouri lost 6,250 residents.
However, there are a few bright spots, according to Census Bureau estimates, with Monroe County gaining population and Clinton County more-or-less holding steady amid populations losses in other rural Illinois counties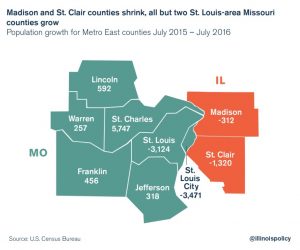 According to the Census Bureau's latest estimates, the populations of Metro East area counties now stand as follows:
St. Clair – 262,759 (down from 264,079 in 2015 and 270,056 in 2010)
Madison — 265,759 (down from 266,071 in 2015 and 269,282 in 2010)
Monroe – 34,068 (up from 33,893 in 2015 and 32,957 in 2010)
Clinton – 37,729 (down from 37,809 in 2015 and 37,762 2010)
Jersey – 22,025 (down from 22,306 in 2015 and 22,985 in 2010)
Clinton County's population actually increased over the first part of this decade – peaking at 37,879 in 2013 – then tapering off since.
Defining Mero East as the three Illinois counties in the federal Office of Management and Budget's St. Louis Standard Metropolitan Statistical Area (SMSA), the total population of Metro East in 2016 was 562,586 – down 1,457 from the 564,043 estimated in 2015 and down 9,709 from the 572,295 recorded in 2010).
Defining it as the five Illinois counties in the slightly larger St. Louis Primary Metropolitan Statistical Area (PMSA), used by some other government agencies, the total population of the Metro East now stands at 622,340 – a decrease of 1,418 from the estimate of 624,158 in 2015 and a decrease of 10,702 from 633,042 recorded by the census in 2010.
Look just outside Metro East and the picture is much the same.
Bond County's population in 2016 was 16,824 – down 100 from 16,924 a year earlier. The county has lost almost a thousand residents so far over the course of this decade. Its population stood at 17,768 in 2010.
The population of Greene County stood at 13,093 in 2016 according to the Census Bureau estimates – down 220 from 13,313 in 2015 and down 793 from 13,886 in 2010.
The Census Bureau estimates the population of Randolph County was 32,621 in 2016 – down from 225 from the 32,846 estimated in 2015 and down 855 recorded in 33,476.
As reasons for the decline, analysts cite an exodus of businesses and resident to the Sunbelt states, an aging population, and lower birth rates.
—- Metro East's population continues to decline —-