Queen of Hearts mania sweeping Metro East region
By Bob Pieper for Chronicle Media —

November 29, 2017
With American Legion Post 1239 in Aviston recently offering an estimated $1.05 million jackpot in its Queen of Hearts drawing, the popularity of privately-run, charitable raffles is rapidly increasing across the Metro East – along with some concerns. 
Non-profit organizations – mostly veterans' organizations — in at least 30 Metro-East communities have sponsored Queen of Hearts or other progressive-jackpot playing-card lotteries over the past four years; several more than once. 
Queen of Hearts prizes in Caseyville and Nashville have reached about $400,000. A raffle in Steelville was approaching that mark at the Chronicle's deadline. In Breese, both the Knights of Columbus and the American Legion have conducted Queen of Hearts raffles. In Waterloo, a Queen of Hearts raffle is conducted to benefit Saints Peter & Paul Catholic School. 
The raffles drew new attention in September, when Veterans of Foreign Wars (VFW) Post 6049 in Morris, a town about an hour southwest of Chicago, awarded a $1.6 million jackpot in its Queen of Heart raffle.   
Organizers routinely report crowds in the hundreds for Queen of Hearts raffles — many coming from miles away. 
In Germantown, where the Sons of American Legion holds a Queen of Hearts raffle, city officials are considering an increase in the raffle's maximum prize from $30,000 to $150,000, in the hopes of making their town's raffle more competitive with those in other communities. 
Veterans organizations, particularly in small communities, increasingly see Queen of Hearts raffles as a critical revenue source amid declining membership. In 2012, Illinois had 805 American Legion posts across the state, according to the American Legion Department of Illinois. Today, there are 737.  
However, some are privately concerned that the local charitable raffles, as well as video gaming, are now competing successfully against the Illinois Lottery — an important revenue source for the cash-strapped state government — and casino gambling, an important source of tax revenue for the state as well as several communities including Alton and East St. Louis.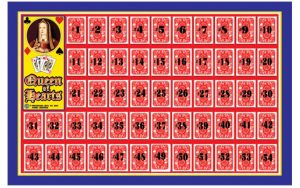 The State of Illinois has formally regulated such charitable raffles since 2012 under its Raffles and Poker Runs Act; enacted as states across the nation moved to regulate the games. 
However, the law places enforcement responsibility largely on local government. A survey last week by the Belleville News-Democrat suggests many Queen of Hearts raffles may not meet state requirements. 
In Queen of Hearts raffles, participants purchase tickets for a weekly drawing; the winner of which can then draw a card from a standard poker deck with jokers. If the card dawn is the queen of hearts, the player wins a share of the ticket sales revenues — generally around 60 percent.  Should another card be drawn, it is discarded and the game continues the following week using the remaining cards in the deck.  
Unclaimed cash prizes are carried forward and added to the net week's ticket sale revenues to create larger jackpots as the game goes on. 
Exact rules vary from game to game. Most raffles can continue for up to 54 weeks, until the queen of hearts is drawn. However, in at least one case, organizers announced they would end the game after several weeks; allowing tickets to be drawn and cards selected on the final night until the jackpot was claimed.   
Some games offer a smaller cash prize to ticket drawing winners who did not select the queen of hearts; based on the card they do select. In some cases, ticket drawing winners do not have to be present to win; instead automatically allowing a card to be selected for them or selecting in advance through a pull tab system. 
The Illinois Raffles Act restricts operation of fundraising raffles to nonprofit organizations and sets down reporting and management requirements. 
Most importantly, raffle organizers must be licensed by a local governing body (i.e.: municipality or county) under a process established by ordinance. 
Before it could award its $1.6 million prize in September, the Morris VFW had to shut down its game for a week; having been notified that the organization did not hold the required license and the City of Morris did not even have an ordinance allowing such raffles. 
The raffle resumed after the city council quickly passed the required ordinance and issued the VFW the required permit. 
— Queen of Hearts mania sweeping Metro East region . —-