Schools score above average on state science test
By Bob Pieper For Chronicle Media —

February 14, 2018
Results of the first administration of the Illinois Science Assessment (ISA) are proving a pleasant surprise to parents and educators in many Metro East public school districts.
More than 90 Metro East schools earned better than average marks on the first-of-its-kind, statewide science proficiency test.
Moreover, results were generally better than for the new science exam than for the PARCC examination, the statewide test used to gauge proficiency in English language arts and mathematics among Illinois public school students.
Across Illinois, the first administration of the ISA test found, on average, 57.5 percent of fifth-graders, 61 percent of eighth-graders, and 40 percent of high school students met designated proficiency levels.
Under Illinois law, public school districts must administer the new science test annually to all fifth and eighth graders, as well as all high school students taking biology for the first time.
The initial administration of the ISA test was in 2016.  The compilation and release of data from that initial administration of the test was held up until last month by budgetary problems.
A date for release of 2017 ISA test results has not yet been announced.
The 2016 assessment window opened on May 1, 2016, giving some districts limited time to administer the assessment before the conclusion of the school year, the Illinois State Board of Education (IBOE) notes.
In addition, schools that attempted to administer normally computer-based test using Apple iOS operating systems experienced significant technology issues, which required them to resort to paper administration. In some places, paper materials did not arrive in time for students to take the assessment before the school year ended, the state school board reports.
"Low participation rates in some schools and districts should not be interpreted as a lack of effort or diligence on their part in light of the obstacles some faced," the IBOE admonishes in its report on the examination results.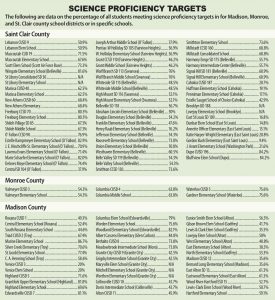 — Schools score above average on state science test —-