Artists to explore the Big Picture at Peoria's Warehouse District show
By Elise Zwicky For Chronicle Media —

October 12, 2018
An idea that was sparked nearly a decade ago by a young Dutch mural painter has bloomed into a day-long interactive arts festival that will take place Saturday, Oct. 13, in Peoria.
The first Big Picture Arts Festival will showcase a wide variety of artistic activities for all ages from 10 a.m. to 6 p.m. in the 1200 and 1300 blocks of SW Adams St. in the city's Warehouse District. The event is free, though donations will be encouraged.
The festival is the brainchild of Peoria artists Doug and Eileen Leunig, who were inspired by Ard Doko, an artist from the Netherlands and frequent visitor to Peoria who has painted several murals here.
"This is an idea we've been talking about for 10 years," Doug Leunig said. "When Ard first came to Peoria at 18 years old in 2011, he was the one who first proposed putting up murals in the Warehouse District and got us thinking about that."
At the time, that wasn't even possible because the Warehouse District had just been designated as a national historic area. The Leunigs successfully lobbied the Peoria City Council to change the city ordinance to allow mounted murals that are hung via brackets so the artwork can be switched out or removed.
The couple have long donated after-tax profits from their own artwork through an organization they created after retiring in 2007 called Purpose Driven Art. Much of those proceeds went to the Sun Foundation, an arts and science educational organization located in Washburn. Last spring the Leunigs formed a nonprofit called the Big Picture Initiative with the goal of shining a spotlight on the arts and raising funds to pay artists to teach after-school workshops at local community centers.
"We want to see workshops on the arts that will teach what we like to refer to as 20th  century skills, which are critical thinking, creativity, collaboration and communication. Those are the things that all jobs require. So if we can give our kids and even our adults those skills through the arts, that's really another part of our goal," Doug said.
Although the Big Picture Arts Festival will be free to attend, the Leunigs are hoping to raise funds from it through donations and sponsorships. A core team of about 45 people have been planning the festival since April.
Doko is one of several professional artists who will be painting murals during the festival.  "We joke that people actually like watching paint dry, so they can see mural artists at work," Eileen said.
Other artists will be creating inflatable sculptures, painting car art or drawing chalk art masterpieces in a contest that will be judged by the public. "The chalk art competition is our only fundraiser of sorts," Doug said. "We have sponsors who have given us $100 per square for people to do chalk art in."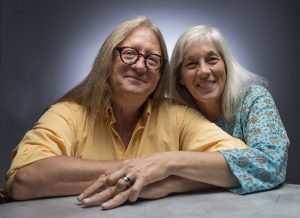 Those who want to be more hands-on at the festival can take part in a paint-by-number community mural and a paint fling in which Super Soaker squirt guns will be loaded with paint and sprayed on a building at 1318 SW Adams. Born Paint is donating the paint for both those projects, but artists can also bring their own paint and brushes to decorate another part of that building.
"After the paint dries, we will go back and put 'Hello Peoria" over it using a stencil that (local artist) Chelsie Tamms has created, and it will be a new selfie spot in Peoria," Doug said.
The public can also build scarecrows with materials provided by the Community Workshop Training Center. Other kid-friendly projects will be sponsored by the Peoria Playhouse and local teachers.
Performances will feature live music by local bands, including Phanie Rae and the Soul Shakers and Gentle Gorilla, as well as street theater, break dancing and a flash mob. Food trucks and a beer tent will be open throughout the day to purchase refreshments.
"We'll be posting the schedule of activities on social media and on the Big Picture website, and there will be signage around the festival directing people to what's happening," Doug said. "Otherwise, people are just free to move around the festival and see what attracts their attention."
The Leunigs are encouraging festival-goers to take pictures and video during the day and to not only post them on social media but to submit them to possibly be included in a documentary about the event that they plan to produce later. "We're calling the whole festival area 'camera candy,' " Doug said.
The day will end with a film festival from 7 to 9:30 p.m. at the Peoria Riverfront Museum, which will showcase about 20 short films submitted in a contest this summer. The films will run from one to eight minutes and have a rating of PG-13 or less. The top three films as determined by a panel of three professionals from the film industry will receive cash prizes. A $5 donation is requested to attend the film
Noting that art brings many economic benefits to a community, the Leunigs hope the Big Picture Arts Festival will not only become an annual event in Peoria will also grow nationally and even internationally.
"We are going to shine a spotlight on central Illinois as an example of how the arts can change a community, but our plans in the future are to have this be global," Doug said. "Right now we're starting local and will grow it from there, but we definitely will have a European contingency in the future."
Adding what he called an outsider's perspective, Doko said, "In the past eight years that I've been coming here, I've seen a lot of great development in the city through art and small businesses and a lot of fun things. Especially now that Caterpillar left, the city is doing a great thing by filling those gaps with a lot of local initiatives."
For more information, visit the Big Picture Peoria Facebook page or the website at www.bigpicturepeoria.org. In case of inclement weather, the event will be held on Oct. 20.
—- Artists to explore the Big Picture at Peoria's Warehouse District show —-