As Chillicothe's Summer Camp grows, so does impact on community
By Tim Alexander For Chronicle Media —

May 25, 2018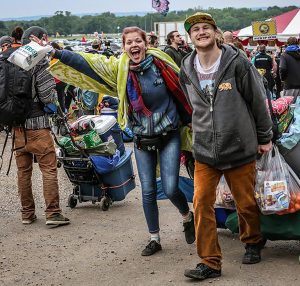 Amid stages being readied, tent stakes placed and lighting rigged for the 18th Summer Camp Festival at Chillicothe's Three Sisters Park, Brad Miller says the more the festival grows, the more it strives to retain its homespun vibe.
"Despite the growth, Summer Camp remains the 'home away from home' stomping grounds for both locals and dedicated Summer Campers," said Miller, director of marketing for Summer Camp host Jay Goldberg Events and Entertainment. "Each year we welcome in new attendees who become a part of our giant, music-loving family. For many fans, coming back to Summer Camp is like coming home."
More than tripling the population of 6,097 in Chillicothe– which is located in northern Peoria County– Summer Camp grew from its humble beginning in 2001 in front of a thousand jam-band fans to more than 125 bands on nine stages and some 20,000 ticket holders in 2017.
Relix magazine now refers to Goldberg's Summer Camp as one of the top open-air music festivals in North America and a "must-attend" for jam-band circuit riders.
Summer Camp's growth, while continuing to fuel local controversy over to drug arrests and drug-related illnesses, has also had a decidedly positive impact on Chillicothe-area businesses, according to one local Chamber of Commerce member.
"(Summer Camp attendees) spend a lot of money at a lot of different places in town," said Amanda Oedewaldt, who co-owns Castaway's restaurant and a newly-opened bistro, Odie's, in Chillicothe. "Most of our regulars tend to hide out at home that weekend (of the festival, which runs from May 25-27, 2018) and we get people who are in town for that event. Especially if it rains, or is exceptionally hot outside, we will get really busy.
"On Memorial Day, which is the day they all leave town, we do a great big breakfast buffet and we move them through quickly on their getaway day," she added "We can get groups of 80 to 100 people at a time coming in, so we have to have to be able to react quickly."
The 20-fold increase in Summer Camp attendance over the last 18 years means that area businesses must anticipate year-to-year increases in demand for their goods and services. This is something Oedewaldt and other CCOC members are acutely aware of.
"We just try to adapt to where we can handle the increased business and give the customers good service, because we want them to stay in Chillicothe," she said.
Summer Camp has also grown in its purpose and sense of responsibility to the community, the environment and humanity.
The festival's exclusive "Make a Difference" campaign brings together volunteers to coordinate activities and programs that benefit local, national and international charities and non-profits.
Organized by Vanessa Robinson of Jay Goldberg Events, Make a Difference will benefit around a dozen non-profits through activities at 2018 Summer Camp, according to the festival website.
"Make a Difference is kind of a work exchange program (for festival tickets) that utilizes general volunteers and what we call 'green team' volunteers that focus on recycling and composting," Miller said. "There is also a 'non-profit row' with initiatives like Head Count, which registers people to vote, or Amnesty International, or organizations that acquire food for food banks."
In addition, the festival's 'Soul Patch' area promotes concepts such as permaculture, environmental sustainability and protection of natural resources as part of its Make a Difference program.
As for the 2018 Summer Camp lineup, festival stalwarts moe. and Humphrey's McGee will anchor the event with multiple sets. Ex-Grateful Dead bassist Phil Lesh and the Terrapin Family Band will also headline the festival, as will Diplo, Slightly Stoopid and Cypress Hill.
"Diplo played the festival before, but since then has blown up with a lot of mainstream tracks that are very popular," Miller said. "Slightly Stoopid is a returning reggae-influenced rock band, and Cypress Hill provides a hip-hop aspect, So through our headliners, we are kind of all over the map with different genres, and that is how the festival is intended. It is for all music fans who like a little bit of everything, including bluegrass, jamtronica, and more."
The lineup boasts more than 180 artists performing more than 225 sets on ten stages, with several hailing from Peoria or elsewhere in central Illinois. This makes 2018 the largest Summer Camp ever.
Around 20,000 music fans– many from out of state– are expected to attend. For many it will be their first trip to Summer Camp, which, with its array of food and craft vendors, temporary structures, on-site emergency services and communal vibe, resembles a city within a city.
"It's a lot to take in initially," Miller said. "Once you enter the gates it is like entering an amusement park. You camp inside the park. You are able to go through forests and fields where ten stages are set up; there are attractions everywhere.
"Whatever your festival agenda is, whether you want to see new bands, see only headliners, or just hang with friends or camp in the woods, you really get a sense of community and lot of opportunities to not only express yourself, but to grow and learn and discover new interests. And there is a lot of good food."
For more details on 2018 Summer Camp, visit www.summercampfestival.com.
— As Chillicothe's Summer Camp grows, so does impact on community —