Family takes action after dog killed by Tazewell Animal Control
By Holly Eitenmiller For Chronicle Media —

September 12, 2018
As promised, Tony Wang is taking legal action against Tazewell County Animal Control for "accidentally" euthanizing his dog, Moses.
Moses was being held by animal control on a 10-day bite quarantine, after he bit a private contractor who entered the Wang's backyard unannounced and uninvited, on Friday, Aug. 3. The family rushed the man to a prompt care facility for minor abrasions, and were told by TCAC staff that animal control must be informed.
"We decided to be proactive and call them right away," Wang said. "They told me I had to bring him there that day. I really didn't want to bring him over, but we were afraid they would come get him anyway, Now I know, and I so regret it. I should have told her, 'I'm just going to keep him here,' but I really didn't know."
In the early morning hours of the following Wednesday (Aug. 8), TCAC Director Ryan Sanders euthanized Moses in a utility closet by a "heart stick", an intracardiac injection that causes cardiac arrest. Sanders then left Moses lifeless on the concrete floor for the Wangs to retrieve.
"I asked, 'How did he die?', and he said, 'I stuck a needle into his heart to knock him out,' " Wang said. "Moses was awake when he shoved the needle in his heart."
The Wangs found, and photographed, in the utility closet, a syringe pole used to inject animals from a distance.
The State of Illinois Humane Euthanasia in Animal Shelters Act mandates that all animals euthanized by intracardiac injection must be sedated and comatose first.
It also states that all animals must be scanned for a microchip before being euthanized. Moses was microchipped, but Sanders admitted he failed to scan him before he killed him.
Sanders quickly declined opportunities for comment, citing pending litigation, but provided the following statement: "On August 7th, Tazewell County Animal Control mistakenly euthanized a dog that was being held in our facility on a 10-day bite quarantine. Tazewell County truly regrets this error. Tazewell County will be reviewing policies and procedures to prevent any such occurrence from happening in the future."
The Wangs have since retained Springfield attorney Stephen Hedinger, a member of the Illinois State Bar Association's Animal Law Section council. It's not about the money, Wang said.
"If we just walked out of there and did nothing about it, they would just go on with it all and forget about it," he said. "Money's not the issue. Our family member was wrongfully executed by an individual who did not care. Something has to be done to prevent this type of tragedy
By mid-August, Hedinger issued a litigation hold letter to various Tazewell County offices, informing officials of their legal duty to maintain all files and documents pertinent to the case, such as the status of Sanders' euthanasia technician's license, itemized expenditures and documentation of all shelter kills.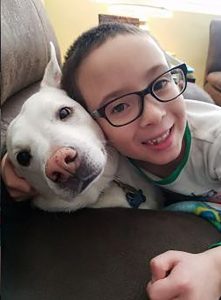 "This situation may well result in litigation, and, as a result, they can't destroy files or 'lose things,'" Hedinger explained. "I am very surprised that no one from the county has reached out to us in any way. Not (Tazewell County States' Attorney) Stewart Umholtz or any other people."
Wang works for Pekin Insurance, and initially believed that pets are treated as property according to state law, but Hedinger said that's no longer the case in Illinois.
"Illinois is unique and in the forefront on that. Before, there were statutory provisions, but the court has allowed that the pet has special value above and beyond market value," he explained. "The Illinois Humane Care for Animals Act, and the appellate court, has recognized that, often times, the market value of the pet does not come anywhere near the true value of that animal to the owner."
The Wangs adopted Moses just before Thanksgiving, 2012, from an Ohio kill shelter as he was set to be euthanized. A veterinarian determined he was the same age as their son, Kellan; nearly a year old. Kellan and Moses quickly developed a close bond. Now, Kellan still struggles with accepting the excuse he's been given that Moses became sick at animal control and died.
Shortly after carrying his body from the shelter, Moses was cremated, his ashes preserved in a wooden urn. His doggy bed, toys and collar still sit where they were left, along with a painting of him that Jennifer Wang created.
"He ate with us, slept with us, watched TV with us," Wang said. "We would give anything to have him back."
A GoFundMe page, "Justice For Moses", was launched Aug. 10 to raise $1,000 for attorney fees. Donors have since contributed more than $10,000, which will offset the costs of the lawsuit against Tazewell County and Ryan Sanders. Whatever is left over, Wang said, will be given to benevolent causes in Moses' honor.
— Family takes action after dog killed by Tazewell Animal Control —