Holiday spirit warms the air across central Illinois communities
By Holly Eitenmiller For Chronicle Media —

November 22, 2017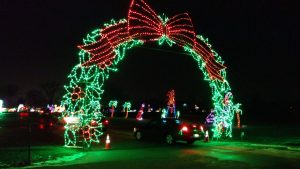 Decembrrrr is just around the corner, and with it, the frigid temperatures that turn most people into homebodies. 
But the chill of the season also brings with it many reasons to weather the cold. Most park districts, chambers of commerce, schools and churches have organized tantalizing holiday affairs long before the Thanksgiving turkey has thawed. 
From breakfasts with Santa, to tree lighting ceremonies, seasonal music concerts and a play or two to attend, there's plenty to please everyone this year.   
And there is always the holiday favorite "The Nutcracker" ballet that can charm anyone into the Christmas mood. 
Here are just a few of the coming local festivities that promise to bring extra warmth and cheer to the season, many of which benefit worthy causes, and offer us a reason to don our gloves, scarves and hats and brave the cold. 
So, grab a hot chocolate and some candy canes and check out one or all of these happenings. 
 Bloomington 
Nov. 23: 39th Annual Bloomington Parks, Recreation & Cultural Arts Turkey Trot, Miller Park Pavilion, 8 a.m. his event is not timed and awards are not given. Instead, everyone who signs up and participates is entered into drawings for prizes including event shirts, frozen turkeys and much more! Shirts will also be available for purchase at the event. http://www.cityblm.org. 
Dec. 1: Jammies and Jingles, Children's Discovery Museum, 101 E Beaufort St., 6 – 8 p.m., 
The whole family will enjoy wearing jammies, building and decorating graham cracker houses, designing ornaments, and playing holiday games and a visit from Santa. Visit www.childrensdiscoverymuseum.net. 
Dec. 9: Skate with Santa, Pepsi Ice Center, 201 S Roosevelt Ave., Skate with Santa and Mrs. Claus at the Pepsi Ice Center this Christmas. Free cookie and hot chocolate with Santa will be available for pictures. Have fun with all of your family and friends skating to Christmas classics. Visit www.cityblm.org. 
Dec. 9: Dig out that outrageous holiday sweater you have tucked away in your closet and come out for the annual Ugliest Sweater Run, beginning at 1 p.m. at Miller Park.  To register or for more information, go to http://www.fleetfeetbloomington.com/.   The event is sponsored by Fleetfeet Bloomington and the Parks and Recreation Department.  
  East Peoria   
Dec. 4: A Very Electric Christmas, by Lightwire Theater, ICC Performing Arts Center, East Peoria, 1 p.m. Audiences of all ages will treasure this magical light show and captivating tale of family, friendship, and hope set to timeless holiday hits. 
Dec. 31: Get Lit New Year's Eve Fun Run, 11:50 p.m. A fun way to "run" in the new year! This non-competitive run/walk takes you through FOLEPI's Winter Wonderland drive-through display. www.folepi.org. 
Dec. 1 – 10: Joseph and the Amazing Technicolor Dreamcoat, Eastlight Theater, 1401 E. Washington St. This Andrew Lloyd Webber and Tim Rice musical tells the story of Joseph and his 11 brothers. It was created as a soft rock fantasy t for the entire family. Tickets and schedule available at www.eastlighttheatre.com. 
Dec. 15 – 17: The Nutcracker, ICC Performing Arts Center, East Peoria. The Central Illinois Ballet presents The Nutcracker in conjunction with the 2017 Festival of Lights. This timeless ballet is a family favorite, featuring the music of Tchaikovsky and exquisite dancing. www.ciballet.com. 
 Eureka 
Nov. 25: 1st Annual Tree Lighting, Center and Main streets, 4-5 p.m. Arctic Diamond owner Jeff Stahl, owner of the Chanticleer will carve a Christmas ice masterpiece from 4-4:30 p.m. followed by a sing along with the EHS jazz choir a special visit from Santa Claus and the lighting of the town tree at 5 p.m. 
Nov. 25 – Dec. 9: Twas the Lights Before Christmas Decorating Contest. Eureka Events Committee is sponsoring a Christmas decorating contest. Untangle those lights put on the Christmas music and start a new family tradition. Build a winter wonderland using festive flickering lights, rip roaring renderers, or a slip sliding sleigh Judging will be done four categories. Winners  announced at Dec. 11 at city council meeting.  Enter online at http://www.eurekaeventscommittee.org. 
Peoria 
Nov. 14 – Dec. 30: The Caterpillar Visitors Center at 110 SW Washington St. welcomes you to take your holiday photo in front of their festive, fully-decorated track-type tractor. Visit caterpillar.com for tickets and information. 
Nov. 24 – Jan. 14: PNC Winterfest Ice skate outside on the corner of Fulton St. and Jefferson Ave. in downtown Peoria! Take a ride down the ice slide or warm up in the beverage tent. Visit www.pncwinterfest.com for more hours and more information. 
Nov. 24: 130th Annual Santa Claus Parade & Yule Like Peoria, 1o:15 p.m., Downtown Peoria. The nation's longest-running holiday parade. The Yule Like Peoria walk-about features refreshments and various forms of holiday entertainment in the beautifully decorated business area of downtown Peoria. Visit www.peoriaevents.com. 
Nov. 25 – Dec. 15: Spirit of Peoria Holiday Cruises, 100 NE Water St. Prairie Folklore Theatre celebrates the spirit of the holidays on the Spirit of Peoria with A Celtic Christmas. Celebrate an old-fashioned Christmas with carols and stories about the songs and traditions. Visit www.spiritofpeoria.com for a schedule. 
Dec. 8-10: Santa's Wildlife Express. Wildlife Prairie Park transforms into a Winter Wonderland! Take a train ride through the North Pole and enjoy games, crafts, cookie decorating, pictures with Santa and animal encounters! Reservations required. Visit www.wildlifeprairiepark.org. 
Dec. 9: Santa Cause 5K. Strap on your Santa suit and join hundreds of other Santas in a stamped through Downtown Peoria to raise money for the area! Spectators are welcome! www.peoriasantacause.com. 
 Pekin   
Nov. 26: Pekin Winter Wonderland Parade/Opening Ceremonies, Mineral Springs Park, 3:30 p.m. Enjoy a parade, family friendly activities, and then reworks to end the night! Mineral Springs Park remains lit throughout December for all to drive through and enjoy. www.pekinwinterwonderland.info/Events. 
Dec. 1: Christmas on Court, Downtown Pekin, 5 – 8 p.m. Kick off the holiday season in Downtown Pekin with carriage rides, a tree lighting ceremony, live entertainment, and demonstrations and giveaways at local businesses. Visit www.pekinmainstreet.com. 
Dec. 9: A Laura Ingalls Christmas, Pekin Public Library, 10 a.m. – Noon: Join Laura Ingalls as she reminisces about her childhood Christmases, and looks forward to making new memories with her soon to be husband, Almanzo Wilder. Presented by Laura Keyes, who has been portraying women in history since 2008. Pekinpubliclibrary.org 
Morton 
Dec. 2: Bells in Motion, First Mennonite Church, 250 S Baltimore, 7:00 p.m.  Bells in Motion is a progressive hand bell ensemble that performs music ranging from jazz to classical, big band to blues, Broadway to rock, and sacred to original compositions. Reception to follow the concert in the fellowship hall at the church. Visit www.bellsinmotion.org. 
Dec. 9: Visit with Santa and Mrs. Claus, Morton Public Library, 315 W. Pershing, 10:30 – 11:30 p.m. Children and adults are invited visit the Claus family.  A special Holiday Sign and Sing will be an hour before. Visit www.mortonlibrary.org. 
Washington 
Nov. 30 – Dec. 3: A Gift of Christmas, Five Points Washington,  Conklin's and Five Points Washington bring you another wonderful show full of holiday music, memories and comedy focusing on the gifts of the season. Visit www.vepointswashington.org. 
Dec. 1: WCHS Choir Madrigal Beggar's Night and Renaissance Fair, 115 Bondurant St. 6-8:30 p.m. It the season for the Madrigal Beggar's Night and Renaissance Fair at Washington Community High School. The fair is free and boasts a wonderful history and treats from the WCHS bakery. Visit www.eventbrite.com. 
Dec. 7: Christmas on the Square, Washington Historic Square, 5 – 8 p.m. Carriage rides, Christmas sing, community tree lighting, merchant open houses. Visit www.ci.washington.il.us. 
–Holiday spirit warms the air across central Illinois communities —