Tazewell Co. work on veterans, Underground RR records honored
March 8, 2023
The Illinois State Historical Society announced the Tazewell County Recorder of Deeds Division will be recognized with an award for the complete digitization and new public availability of our military discharge records of Tazewell County veteran at an annual awards luncheon on Sunday, April 29. This year's event will take place at the Hoogland Center of Arts in Springfield.
In May 2022, the Clerk and Recorders of Deeds Office unveiled to the public the new digitization of all military discharge records, which date back to the 980 Civil War veterans from Tazewell County and includes the Medal of Honor Certificate of Dr. Thomas Murphy of Green Valley.
Tazewell County is the first and currently only county within the State of Illinois to have achieved this level of preservation and accessibility of these historical records. Tazewell County hired ArcaSearch of St. Cloud, Minnesota, for this project.
"We are extremely honored to be recognized by the Illinois State Historical Society for this project" said Tazewell County Clerk John C. Ackerman. "ArcaSearch did an outstanding job that deserves to be recognized by historians and encouraged in other County Clerk Offices throughout the State of Illinois. We consider the Military Discharge Records of our Tazewell County Veterans amongst the most valuable records we are entrusted with preserving."
The completed project can be viewed at gov.arcasearch.com/usiltaz/
In addition, the ISHS announced Ackerman, the Tazewell County Genealogical & Historical Society, and the Peoria Branch of the NAACP will be recognized with an award for their presentations "Recognizing Tazewell County's Underground Railroad Conductors" at the April 29 event.
For the past two years they organized public recognition events in Morton, Tremont, South Pekin, Delavan, Washington, and at the Tazewell Court Courthouse to recognize the 25 known Cconductors of the Underground Railroad through Tazewell County.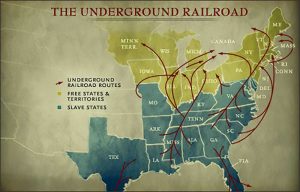 The events included placement of a permanent historical marker at the gravesite of each of the Underground Railroad Conductors. This recognition effort has already extended into Peoria and Woodford counties, and in May will be extended into Sangamon County.
"I was shocked when I found the Underground Railroad had a major branch transversing Tazewell County as I was previously unaware of our local connection to this major national historical event" said Ackerman. "I thank my friends Susan Rynerson of the Tazewell County Genealogical & Historical Society and Rev. Marvin Hightower of the Peoria Branch NAACP for their partnership in hosting these public recognition events, placement of a lasting historical marker at their gravesites, and increasing the local knowledge of the heroic activities of these Tazewell County and Central Illinois residents."
Tazewell County was part of a line of conductor homes and hiding places stretching from Alton and Grafton along the Mississippi River, through Otterville, Jerseyville, and Jacksonville in Southern Illinois, entering Tazewell County at Delavan and passing to Circleville, Dillion, Tremont, Morton, Washington, and Metamora, northward towards Chicago or Wisconsin.
The goal of an estimated 800 enslaved individuals taking this route was escaping slavery in Arkansas, Texas, Louisiana, Alabama, Mississippi, Tennessee and Kentucky and make their way to freedom in Canada. While Illinois was non-slave holding state, it was illegal to assist runaway enslaved individuals, and bounty hunters hired to retrieve runaway slaves was a considerate danger for the formally enslaved individuals and the Underground Railroad Conductors that violated the law to offer assistance to them.