Local group seeks to save factory
Jack McCarthy —

March 10, 2015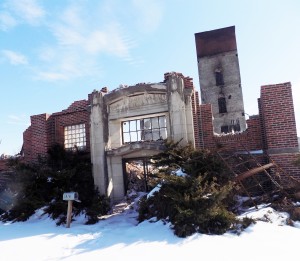 All that now remains of the former industrial site on South 11th Street are charred timbers and piles of steel and bricks following one of the largest fires in Rockford history in January.
But somehow a stately stone doorway was undamaged and miraculously survived.
Now a group of Rockford preservationists hope to extricate the entryway from the wreckage of the former Asher Tool and Machine Sales building and restore it as a monument to the city's industrial past.
The 92-year-old building began as home to the Rockford Cabinet Company, with the firm's name engraved on an archway. The top of two decorative columns feature the letter "R".
"The Rockford Cabinet Company entrance is a testament to our city's hardworking, can-do spirit, even when disaster strikes," said Michael B. Smith, member of a seven-member volunteer group spearheading donations and removal. "It reminds us that our manufacturing industry has deep roots. It encourages us to continue innovating and collaborating for a better future."
Preservation enthusiasts purchased the entry for $1. Now they hope to raise $5,000 to disassemble, move and store the pieces.
The Rockford Area Arts Council is hosting web space and a donation button on its website at artsforeveryone.com. Through Sunday organizers said up to $2,200 had already been committed.
Bygone Brand, an area T-Shirt company, has created custom shirts featuring the Rockford Cabinet Co. logo with proceeds destined for the removal effort.
The entry's ultimate destination won't be determined for some time.
"Ideally, (it would be) situated in a place that is historically appropriate and accessible to the public," according to a statement posted on the Rockford Redux Facebook page. "We are working hard to find a permanent location for the entry."
The 185,000-square-foot building covered a full city block and was destroyed in a January blaze that was called one of the largest in Rockford history. Authorities suspect the building was the site of an illegal marijuana growing operation.