Parks, youth programs and infrastructure highlight RPD's future plans
By Lynne Conner for Chronicle Media —

September 6, 2018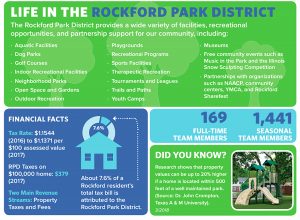 After concluding a six-month community-led master plan process, the Rockford Park District has revealed a five-year strategy to reinvest in several park district programs and services.
The process included "visioning sessions" held throughout the city, where citizens could ask questions and provide feedback.
More neighborhood parks, expanded youth programs and updating aging infrastructure topped the list as RPD amenities most valued by community members. Other programs and services important to the community included: open space and trails, arts and cultural programs, the Nicholas Conservatory and Gardens, outdoor education, swimming and community-wide events.
"We received some very specific guidance from our community in terms of what they want their tax dollars going toward," said Rockford Park District Executive Director Jay Sandine. "Getting back to some of our core services, focusing on youth, teens, and families and downsizing the District is something we heard loud and clear.
"Heading into 2019 budget planning, the District is anticipating a nearly $800,000 deficit so in order for us to add and reinvest in what our community is telling us, we have to reduce our footprint and live within our means. Our goal is to have a vibrant park system that is helping to improve the quality of life for the citizens we serve," he added.
Park District budget woes stem from a declining tax base and a reduced revenue stream due to population and demographic shifts within the district.
Several proposals for helping the District's bottom line were offered through community feedback and are now being reviewed by the RPD's Board of Commissioners. The commissioners are set to decide on the priority of the proposals at their Sept. 11 meeting and then implement a master plan in the next five to seven years.
The money-saving proposals include both adding programs and services to the RPD and eliminating or reducing others. Some revenue generating ideas include:
An investment in trails and the creation of world-class silent sports trail system at Atwood Park;
The creation/enhancement of destination parks which could include water features, family activities, events, camps, etc. and finishing development of key assets at Levings Park, Southwest Park and Lockwood Park;
Alternative, new, or non-traditional year-round programming to attract new, current and non-golfers along with expanding food and beverage service, merchandise and adding gaming at Aldeen Golf Club.
Ideas for reducing the RPD's footprint while saving money include:
Achieving a reasonable tax subsidy at the following locations: Aldeen Golf Club, Alpine Hills Adventure Park, Carlson Ice Arena and Riverview Ice House, Mercyhealth Sportscore Complexes and UW Health Sports Factory;
Continuing to explore the privatization of Magic Waters Waterpark, the Forest City Queen and Trolley Car 36. Privatize sell or lease Elliot Golf Course;
Suspend operation of the Forest City Queen, Trolley Car 36, Sand Park Pool and close Alpine Hills Golf Course in 2019;
Sell or lease specific District owned property with no recreational value such as various District owned buildings and sell land in prime development locations.
Amid the RPD's financial concerns, the brand new The Rockford Bank & Trust Pavilion at Aldeen Golf Course, which opened in mid-August, is poised to be an important source of revenue for the park district owned golf course going forward.
According to Laura Gibbs-Green, public relations manager for the Rockford Park District, the Pavilion is anticipated to generate around $150,000 worth of income annually.
"That profit will be reinvested into Aldeen to pay off the Rockford Bank & Trust Pavilion mortgage, which is a small part of the Pavilion's overall cost to build. Over two million dollars was donated for the construction of the Pavilion by: Rockford Bank & Trust, Rick and Lana Engan, the Norris & Margaret Aldeen Foundation and Giovanni's Restaurant & Convention Center," she said. "The RPD will also receive 100 percent of the facility's rental fee and a portion of the profit from food and beverage sales."
For more information on the Rockford Park District's Community Led Master Plan Process, visit www.rockfordparkdistrict.org/news and click on the "Rockford Park District Reveals Plans to Reinvest in Neighborhood Parks, Youth, Aging Infrastructure and Other Community Priorities" link.