Winnebago County news briefs
Jack McCarthy —

March 10, 2015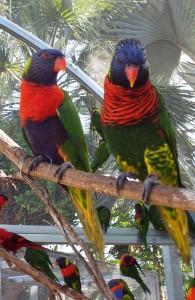 9.5 million users and high marks for Park District
A report to the Rockford Park District Board of Commissioners had 9.5 million users last year and nearly all offered high marks for facilities, programs services and events.
The district recently received an annual report on participation and use of facilities, programs and museums in 2014.
"The report demonstrates the District's achievement of its priority of residents being involved in diverse and well-supported recreational activities for their health, well-being, and entertainment," according to a statement issued by the Park District.
Top reasons given for participation were to have fun, be physically active, skill development, convenience, and affordability.
"Residents continue to enjoy a vast array of traditional recreational programs. In the last year, we also closed a gap in active recreation with the addition of Gateway Parks snow park, Zip Rockford canopy tours at Alpine Hills, and West Rock Wake Park cable boarding park at Levings Lake. By partnering with these new operators, we have been able to bring new non-traditional sports to town that have been very popular."
Among priorities was providing services to teens, at-risk youth, and families, programs during summer and non-school times, and coaching and instruction at introductory levels for lifetime recreational enjoyment. This is achieved through partner-provided and direct offerings.
New holiday tourney to include Rockford Auburn
Rockford Auburn has been announced as one of 13 schools set to participate in a new 16-team holiday tournament in Hinsdale.
The Inaugural Hinsdale Central Holiday Classic will be held on Dec. 26 and 28-30 at the schoool, which frequently hosts Illinois High School Association tournament games and other event.
Other entries include Crespi Carmelite of Encino, Calif., Crete-Monee, DePaul College Prep, Hinsdale Central, Homewood-Flossmoor, Lincoln Park, Maine South, Perspectives Math & Science Academy, Richards, St. Charles East, Stevenson and Westinghouse
Other participating schools will be announced at a later date.
The tournament blends teams from different geographic locations with various styles of play and has a number of highly touted underclass players that will rank among the top recruits for the next several years.
The current group of 13 teams has both a current and previous history of basketball excellence. Eight teams were been ranked this year, eleven have previous state tournament appearances, and two are defending Holiday Tournament champions.
The event will feature all 16 teams playing each of the four days, and a full day admission price of five dollars for spectators.
Rock Valley hosts 31st annual Science Olympiad
Hundreds of area students will test their wits and creativity on Saturday when they compete in the Northern Illinois Regional Science Olympiad at Rock Valley College. The event will take place from 8:00 a.m. to 3:00 p.m. on the RVC main campus (3301 N. Mulford Rd.) with an awards ceremony at the end of the competition.
The hands-on event for high school and middle school students covers all areas of science, including biology, chemistry, physics, earth science and engineering. Testing will include everything from building rubber band powered helicopters and bottle rocket missiles, to working hands-on with various data collecting lab instrumentation and then using that data to analyze various science related problems.
This is the 31st year the Science Olympiad will be held at Rock Valley College.
The top placing students in each event will receive medals, while teams will earn an overall score. The top high school teams and top middle school teams will advance to the state tournament at the University of Illinois in April.
For more information, call Co-Regional Director, Fred Kunz at 815-979-4877.
Saturday's PaleoFest features 'Roxie' and more
Have you ever wanted to meet a dinosaur?
You don't have to visit Jurassic Park for that, just attend PaleoFest at Burpee Museum on Saturday. "Roxie," a gentle, realistic dinosaur puppet (standing over 8-feet tall and 12-feet long) will appear at 10:30 a.m., 1 and 3 p.m. at the Burpee Museum of Natural History, 737 N Main St., Rockford.
Along with meeting Roxie, Ikids can also enjoy the PaleoPassport stations throughout the museum to learn about dinosaurs, or attend the kids workshops led by real paleontologists going on all weekend long!
The internationally-known PaleoFest at Burpee Museum is not just for kids. Adults can enjoy listening to the 20 renowned speakers, participating in exclusive programs and activities, and attending a special dinner and lecture with Dr. Hans-Dieter Sues.
PaleoFest 2015 focuses on the Triassic and Jurassic time periods — "The Beginning of Dinosaurs and the Origin of the Modern World."
For more information about PaleoFest 2015, visit burpee.org or call (815) 965-3433.