Eureka schools proactive on lead testing after mixed report
By Holly Eitenmiller For Chronicle Media —

January 24, 2018
When it comes to the "good news, bad news" scenario, it's usually best to tell the bad news first, and here it is — three CUSD #140 schools tested above acceptable levels of lead in some water sources on first and second draw samplings.
At Eureka MIddle School, a kitchen sink tested above the 5 parts per million limit set by the Illinois Environmental Protection Agency. At Davenport Elementary, seven sources, including drinking fountains and classroom faucets, were somewhat above the limit.
Goodfield Elementary emerged with the highest levels. Four sources, two of them drinking fountains, ranged well above the EPA limit, with the drinking water soaring above 300 ppm on second samplings.
The good news —the problems have been remedied. In January 2017, Gov. Bruce Rauner signed into law a mandate that all Illinois elementary schools and daycare centers must test all sources of drinking water.
Schools built before 1987 were required to complete this testing by the end of 2017. Those built between 1987 and 2000 have until the end of this year. The law does not, however, require that schools remedy the problem, though the IEPA does provide advice.
Not only did CUSD #140 comply with the mandate, district superintendent Bob Bardwell had Peoria Laboratories, Inc. test drinking water at Eureka High School, as well, then promptly contracted Travco Plumbing, Inc. to resolve all of the district's lead problems.
"Congerville didn't have any issues, and, being our oldest school, over 100 years old, we were pleasantly surprised," Bardwell said. "We were pretty happy with the overall results."
The Woodford County Health Department, as well as the IEPA recommend flushing water sources before each use, but Bardwell and school administrators didn't see that as a viable solution.
"You could call how we handled it overkill, but we had faucets replaced and sink fixtures and put filters behind them," he said. "One area sat dormant at Eureka Middle School, so we just discontinued that sink by disconnecting it."
Travco Plumbing President Travis McCollum lauded Bardwell for his fast response. "He's game on. He jumped on that right away, because he wanted to make sure it didn't turn into an issue," McCollum said.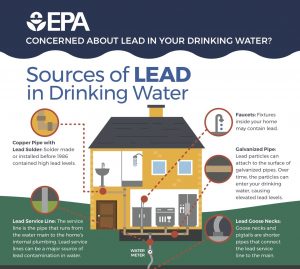 He and his team identified as many sources of lead as possible, and installed whatever hardware and plumbing was necessary. In cases where the lead source could not be identified, filtration devices were installed.
Replacement drinking fountains arrived fitted with filtration systems, as well as bottle fillers for students to refill water bottles.
"We put filtration devices just for lead where the water enters," McCollum explained. "We replaced some drinking fountains and they come with lead filters. When any of those filters expire, they shut down until they're replaced."
Replacement filters for sink systems cost around $19, while those in the drinking fountains are around $80, he said.
"There are all kinds of different sources of lead. It can be naturally in the water, in the pipes, in the solder," McCollum said.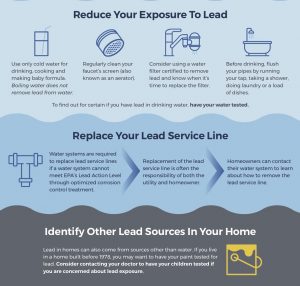 McCollum and his team have successfully completed all lead remediation, though Bardwell said remedying the lead issues is only part of the district's comprehensive plan, Bardwell said.
"Whole maintenance is an all-encompassing plan. We're going through every room, looking at every floor, every window," he said, "to create a first-year plan, then two years, then five years, then a 10-year plan."
The district is currently completing that plan, he said.
— Eureka schools proactive on lead testing after mixed report —-