Hornets win state volleyball crown
Chronicle Media —

November 13, 2016
It's been a great month for Eureka.
First, native son Ben Zobrist won World Series Most Valuable Player honors as a member of the champion Chicago Cubs.
Saturday, the Eureka High School girls volleyball team won the IHSA Class 2A state volleyball championship with a 25-16, 26-24 victory over St. Joseph-Ogden in the title game.
Eureka advanced to the championship match with a 25-27, 25-9, 25-18 victory over Chicago Latin on Friday. St. Joseph-Ogden advanced to the title match with a 10-25, 25-18, 25-8 victory over Althoff Catholic.
The Hornets finished the season with a 33-4 record.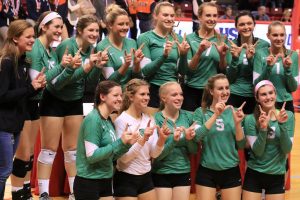 Members of the IHSA State Class 2A Volleyball championship signal their title with the letter "W." (Photo by Kalli McDonald/for Chronicle Media)
— Hornets win state volleyball crown —