Illinois Congressional delegation: How they voted
Chronicle Media —

May 15, 2018
Report for week ending May 12, 2018.
UNITED STATES HOUSE OF REPRESENTATIVES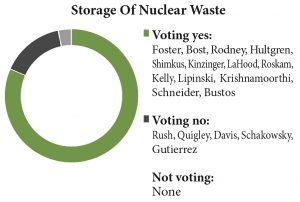 Storage Of Nuclear Waste: Voting 340 for and 72 against, the House on May 10 passed a bill (HR 3053) that would revive a long-dormant federal plan to permanently store in an underground repository at Nevada's Yucca Mountain the tens of thousands of metric tons of radioactive waste from active and retired nuclear power plants in 39 states and federal weapons sites in at least six states. Authorized in 1987, the partially built, exhaustively studied facility 90 miles northwest of Las Vegas has not received final approvals from Congress or agencies including the Nuclear Regulatory Commission (NRC) and Department of Energy (DOE).
The bill would expedite congressional and regulatory steps necessary for the facility to start receiving shipments for burial in its subterranean tunnels and caverns. The measure would also direct the DOE to establish at least one interim facility, at a location or locations to be determined, that would receive nuclear waste for temporary storage until the permanent repository opens. Truck and rail shipments of radioactive material from nearly 130 locations would pass through more than 300 congressional districts to reach the interim and permanent storage facilities.
Paul Tonko, D-N.Y., said: "I know we will hear about the challenges of transporting spent fuel to a final repository, but the reality is nuclear material is already moved around our country today without incident due to strict safety requirements. The only alternative to not moving this waste is keeping it spread out in 121 locations for tens of thousands of years."
Jacky Rosen, D-Nev., said: "We are talking about shipping up to three loads of radioactive waste per week to Nevada by rail or truck for over 50 years. Dangerous waste would go through 329 congressional districts across this country. To the members representing these districts…are you prepared to face your constituents at home and tell them that you voted to put their safety at risk?"
A yes vote was to send the bill to the Senate.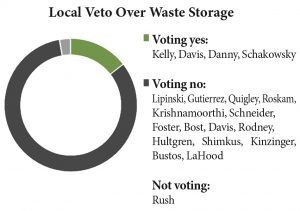 Local Veto Over Waste Storage: Voting 80 for and 332 against, the House on May 10 defeated an amendment to HR 3053 (above) that sought to require the federal government to obtain approvals from an array of local and tribal jurisdictions and the Nevada governor before it could designate Yucca Mountain as the nation's permanent repository for tens of thousands of metric tons of spent nuclear fuel and high-level radioactive waste.
Dina Titus, D-Nev., said: "This is not just about the safety of Nevada. This is about doing what is right, finding a policy that will work that is based on consent…that has a chance to get out of the Senate and really move us (toward) a real solution to an issue that does affect the entire nation."
John Shimkus, R-Ill., said the amendment was so broadly worded that "a community in the state of Utah, Minersville, population 887, 300 miles from the site, could be able to veto this national solution to a national problem…that they are going to have more power than the federal government" over locating the repository.
A yes vote was to adopt an amendment requiring broad-based local consent to the siting decision.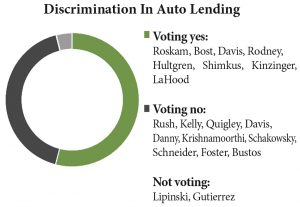 Discrimination In Auto Lending: Voting 234 for and 175 against, the House on May 8 repealed a five-year-old action by the Consumer Financial Protection Bureau against car and truck loans that charge higher interest rates to minority borrowers than to other similarly qualified borrowers. Backers of the repeal measure (SJ Res 57) said the bureau is prohibited by the 2010 Dodd-Frank law from regulating auto dealerships. But the bureau asserts authority under the 1974 Equal Credit Opportunity Act to combat discrimination in auto credit issued by third-party lenders. That law prohibits creditors from discriminating based on race, color, religion, national origin, sex, marital status or age.
Under third-party lending, finance companies originate loans that dealers arrange for their customers, with dealers marking up the interest rate and taking a share of the proceeds. Next to home mortgages and student loans, auto loans are the third-largest source of household debt in the United States.
Although the consumer bureau did not issue a formal rule on auto lending, critics say the 2013 guidance is essentially the same as a regulation and therefore subject to repeal under the Congressional Review Act. This would greatly expand the scope of the review act, which to date has been used only to nullify actual regulations within 60 working days of their effective date.
Lee Zeldin, R-N.Y., said: "Today's fight over this important resolution may sound like a wonky policy debate, but to my constituents, permanently repealing this flawed…ruling may make the difference between being denied or approved for an auto loan they desperately need."
Carolyn Maloney, D-N.Y., said the repeal "would have the effect of encouraging discrimination against minority borrowers in the auto lending market and discouraging the consumer bureau from cracking down on this horrible practice."
A yes vote was to send the repeal measure to President Trump.
Drug Costs, Corporate Mergers: Voting 193 for and 220 against, the House on May 9 defeated a Democratic motion that sought to prohibit a pending antitrust enforcement bill (HR 5645, above) from applying to proposed corporate mergers and acquisitions that would lead to unreasonable increases in prescription-drug prices.
Lloyd Doggett, D-Texas, said the motion reduces "the possibility that, through further mergers of drug companies, we will see the sick and dying extorted even more than they are today with skyrocketing prices that are made even worse when these mergers occur."
Bob Goodlatte, R-Va., called the motion "simply a dilatory tactic used by my friends on the other side of the aisle to hold up this important legislation."
A yes vote was to adopt a motion concerning rising drug prices.
UNITED STATES SENATE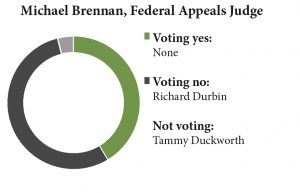 Michael Brennan, Federal Appeals Judge: Voting 49 for and 46 against, the Senate on May 10 confirmed Michael B. Brennan, 54, a lawyer in private practice and former Milwaukee County Circuit Court judge, for a lifetime appointment on the Chicago-based 7th U.S. Circuit Court of Appeals, which oversees federal trial courts in Illinois, Wisconsin and Indiana. Supporters said Brennan was highly recommended by an American Bar Association panel on judicial nominees, while critics took issue with his conservative public stands on issues including mass incarceration, gender equity in the workplace and women's reproductive rights.
Democrats criticized Majority Leader Mitch McConnell, R-Ky., for scheduling the vote even though Brennan failed to receive approval from a bipartisan Wisconsin commission for vetting judicial nominees, or from Wisconsin's junior senator, Democrat Tammy Baldwin. The other Wisconsin senator, Republican Ron Johnson, supported Brennan. Democrats said McConnell flaunted the Senate's "blue slip" tradition of requiring both senators to approve of judicial nominees from their state.
McConnell said Brennan received "bipartisan support from the people who know him best, including the endorsement of more than 30 current and former peers in Wisconsin….It is not too surprising, then, that the American Bar Association has awarded Mr. Brennan its highest rating…."
Elizabeth Warren, D-Mass., said Brennan "supports criminal sentencing policies that slap low-level offenders with long jail sentences and exacerbate the problem of mass incarceration in America. And it gets worse. Mr. Brennan believes that it is A-OK for judges to refuse to follow binding court precedent when the judge just thinks it is incorrect. Now, that is extreme."
A yes vote was to confirm Brennan.