Opioids: More deaths in Illinois than HIV, auto accidents combined
By Jean Lotus Staff Reporter —

April 26, 2017
Organizers brought out the big guns of medical policy for a West Side Heroin Task Force town meeting at Malcolm X College April 18, because the opioid crisis in the state is exploding, said organizer State Rep. LaShawn K. Ford (D-Chicago).
Congressman Danny Davis (D-Chicago) and Rep. Mary Flowers (D-Chicago) also attended.
"I'm running out of ways to describe the heroin crisis in Illinois," said Nirav D. Shah, director of the Illinois Department of Public Health. "I used to say there were more people who died of heroin [overdose] in the state of Illinois than falls, then later I'd say there's more people who died of heroin in the state of Illinois than HIV. Then, I said there were more heroin deaths than homicide deaths. Now where we are today, there are more people who died of heroin [overdose] than homicides and car accidents combined."
The number of opioid overdose deaths in Illinois reached 2,300 in 2016. Nationwide overdoses of opioid drugs passed 52,000 deaths, according to the Centers for Disease Control. That's close to the high of 55,000 deaths during the worst of the HIV epidemic in the 1990s, Shah said. "More poisonous heroin" spiked with fentanyl and other drugs, has caused a surge of deaths in Illinois, Shah said.
Panelists included medical policy experts from Illinois Department of Human Services, Cook County Health and Hospital Systems, the City of Chicago Department of Public Health, the Department of Children and Family Services and local addiction and health organizations.
Opioid use had even touched Ford's own life, he said.
"In my own family, people have been saved [from overdose] by Naloxone from heroin purchased on the street," Ford said.
An overdose "kit" containing Naloxone, an opioid blocker also called Narcan, is available without a prescription from any Illinois pharmacy, said Dan Bigg, Director of Chicago Recovery Alliance. Bigg said almost 10,000 Illinois overdoses hade been reversed with Naloxone kits. Bigg said studies showed a person revived from unconsciousness with Naloxone is more likely to seek treatment afterwards.
"We've been an intoxicating species for all of recorded history," Biggs pointed out.
Like HIV, part of the problem lies in the stigma attached to opioid addiction, Shah said. "When your son dies from leukemia, the entire community shows up to support you," a man told Shah. "But when your child dies of a heroin overdose, no one comes to the funeral and the community turns their back on you."
Shah said he believed removing the social stigma could do for prevention what basketball star Magic Johnson's 1996 announcement he was HIV-positive did for AIDs awareness, which led to the numbers of HIV cases dropping across the country.
Medical experts agreed that the science of addiction, which doctors now call "substance abuse disorder" is changing rapidly.
"We know there is a large genetic predisposition for addiction," said Elizabeth Salisbury-Afshar of the Chicago Department of Public Health.
Scientists are just learning how brain chemistry is altered by opioids and how mental-health challenges also contribute to drug use.
Many people begin the road into heroin addiction with an "FDA-approved" prescription for painkillers, Shah said. In 2015, more than 15,000 people in the U.S. died from overdoses involving prescription opioids, the CDC reported.
Even though the medical community understands that there is no single method that cures opioid addiction, thinking of it as a "chronic condition" that will include a lifetime of recovery support is a way to understand and manage it, said Maria Bruno, Illinois Department of Human Services, Division of Alcoholism and Substance Abuse.
"The treatment works. People recover and rebuild their lives every day," Bruno said. The federal government has allocated $40 million to Illinois of a $500 million national program to treat and research opioid abuse disorders, she said. This includes Naloxone training for 15,000 first-responders and help through community partners such as the Lawndale Christian Health Center, on Chicago's West Side.
Dr. Thomas Huggett , of Lawndale Christian, said he's been encouraged by the patients, many of the homeless, who have slowly worked their way back into their families after 25-30 years of heroin abuse. Huggett is licensed to prescribe Suboxone, an opioid substitute that helps with withdrawal symptoms.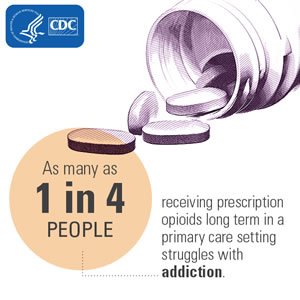 "There is a transformation for so many," Huggett said. "Some have been able to truly transform their lives and be reunited with family. There still are barriers, though, and we're going to have to work together," he said.
In Cook County, plans are in the works to open a second Triage Center, like the one that opened in Roseland last year, said Juleigh Novinski-Konchak of the Cook County Health and Hospital Systems. The center, open 24 hours, seven days a week, provides a place for Chicago police to bring an arrestee suffering from a mental health crisis or nonviolent drug event to divert them from the Cook County Jail, where resources are fewer. Noviski-Konchak did not know the timeline for the new West Side center, but said the county is learning from the Roseland site how to help patients who are dropped off to be stabilized and connected with care. The center will be open to walk-ins, like the Roseland site, she said.
Nonetheless, all of the panelists agreed that reactive treatment was not going to break the heroin, fentanyl and prescription-drug overdose crisis.
"We can't arrest our way out of this epidemic, and we can't treat our way out of this epidemic. Prevention is the key. Closing the front door is how we're going to turn the tide on this epidemic," Shah said.
— Opioids: More deaths in Illinois than HIV, auto accidents combined —