Report shows more Illinois residents diagnosed with Alzheimer's
Chronicle Media —

March 31, 2016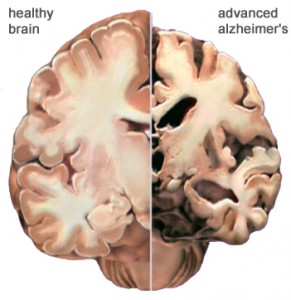 The Alzheimer's Association 2016 Alzheimer's Disease Facts and Figures report shows an estimated 5.4 million Americans have Alzheimer's disease, including 220,000 in Illinois. This number is up 10,000 people from 2015.
The national number is expected to nearly triple by 2050 if a treatment is not found.
Alzheimer's disease is the 6th leading cause of death in the U.S. and the only disease in the top 10 causes of death in the U.S. without a way to prevent, cure or even slow its progression.
Hunger risk higher for those caring loved ones with Alzheimer's
Alzheimer's takes a devastating toll – not just on those with the disease, but also on entire families. Nearly half of care contributors, those who are caregivers of someone with Alzheimer's and/or contribute financially to their care, cut back on their own expenses (including food, transportation and medical care) to pay for dementia-related care of a family member or friend.
In this year's report, the Alzheimer's Association also conducted, for the first time, a nationwide survey on how the cost of dementia impacts the personal finances of families and friends caring for those with Alzheimer's or another dementia. The report calls these individuals providing support "care contributors." The report revealed:
Nearly half (48 percent) of care contributors must cut back on their own expenses – including basic necessities like food, transportation and medical care – to afford dementia-related care, while others must draw from their own savings or retirement funds.
Care contributors are 28 percent more likely than non-care contributors to eat less or go hungry because there wasn't enough money to afford proper meals.
More than one-third of care contributors lost income due to employment disruption.
Care contributors reported an average $15,194 loss of household income, compared to the previous year, as a result of having to reduce their work hours or stop working altogether in order to meet the caregiving demands.
Findings from this year's Facts and Figures report show that very few people are prepared for the cost of caring for someone with Alzheimer's or dementia, which is one of the costliest — and most common — diseases affecting seniors.
— Report shows more Illinois residents diagnosed with Alzheimer's —