Severe cold, more snow creates hazardous weather warning
Chronicle Media —

December 28, 2017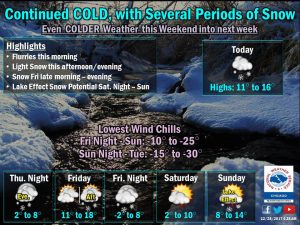 The National Weather Service has issued a hazardous weather outlook for Thursday, Dec. 28 through Wednesday, Jan. 3 for the Northern Illinois and Northwestern Indiana region. The forecast calls for excessive cold combined with an elevated snow risk over the next four to five days.
A couple of periods of light snow will be possible
Thursday morning into Thursday evening, mainly north of the
Interstate 80 corridor.
In addition to the deep cold, forecasts range from a 20 percent to 70 percent snow fall each day Friday through Wednesday.
In addition to the NWS warnings, the  Illinois Department of Transportation reminds travelers to visit the newly redesigned GettingAroundIllinois.com for continually updated information on road conditions.
"The new-and-improved GettingAroundIllinois.com is a great resource any time of the year, but especially during winter when road conditions can quickly change," said Illinois Transportation Secretary Randy Blankenhorn. "Illinois has the third-largest highway system in the nation, so we know it is important to provide the public with a convenient way to access information they know they can trust."
Available on your computer or mobile device, the website includes the ability to identify and zoom in to a location, travel route or destination. Road conditions are recorded by IDOT plow drivers out in the field and relayed through GettingAroundIllinois.com through a cloud-based system.
The site's winter road conditions map averages more than 2 million visitors during snow-and-ice season. Recent updates to this map include more detailed reports of snow coverage and a color scheme that aligns with map technology used by surrounding states, creating a more seamless travel experience for motorists.
"Visit GettingAroundIllinois.com before making the decision to drive this winter," Secretary Blankenhorn said. "By planning ahead before every trip and practicing safe driving habits on the road, we can make this the safest winter yet."
— Severe weather, travel conditions for Northern Illinois —-