Students across Illinois participate in Bicentennial kickoff
Chronicle Media —

December 1, 2017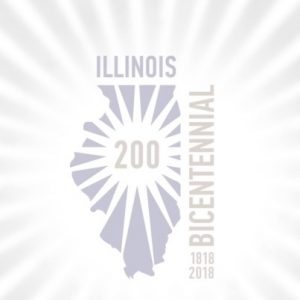 The start of the Illinois Bicentennial is only five days away and each day leading up to the kick off, the office of the Governor will share a winning entry in the Something to Learn About Illinois History video contest.
The latest video is by Will Elliott of Lake Forest High School. His video shown here tells the incredible story of John G. Shedd, a retail clerk at Marshall Field who rose through the ranks to succeed Field himself as President of the company. The aquarium he gave Chicago and bears his name is now housing 32,000 animals and hosts more than 2 million guests each year.
"The Bicentennial is all about showcasing the best of what has been born, built and grown in Illinois," said Gov. Rauner. "The work of the young people who produced these videos is a tremendous display of talent and resourcefulness — Illinois style."
A panel of five selected the winners after participants submitted self-made videos highlighting a fact, event, place, person or something to learn about Illinois history. High school and college students across the state were invited to participate.
One hundred winners were selected, with each receiving two tickets to the matinee performance of "Hamilton" on Sunday, Dec. 3 — one of the day's official kickoff events for the yearlong Illinois Bicentennial celebration.
Events leading up to the Illinois Bicentennial Birthday Party on Dec. 3, 2018, will continue throughout the year. Additional information is available at www.Illinois200.com.
The Illinois Bicentennial Commission and the Governor's Office of the Illinois Bicentennial were created through an Executive Order signed Sept. 20, 2016, to lead the planning for the celebration of the state's 200th anniversary.
JOIN THE CELEBRATION
Illinois Bicentennial is a once-in-a-lifetime opportunity to unite statewide partners, events, and projects to commemorate the state's 200th birthday.
Partners and event and project managers planning activities between Dec. 3, 2017 and Dec. 3, 2018 can apply for endorsement to become an official part of Illinois Bicentennial.
Visit the PARTICIPATE page at illinois200.com for more information.
— Students across Illinois participate in Bicentennial kickoff . —