How They Voted. Illinois Representatives' Votes in Congress
Chronicle Media —

May 29, 2016
UNITED STATES HOUSE OF REPRESENTATIVES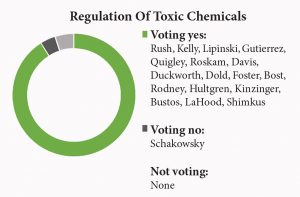 Regulation of Toxic Chemicals: Voting 403 for and 12 against, the House on May 24 passed a bill (HR 2576) to update the 1976 Toxic Substances Control Act for the first time. The bill requires the Environmental Protection Agency to test and regulate tens of thousands of household chemicals on store shelves now and in the future. Financed by user fees on manufacturers, the bill requires higher protection levels for pregnant women, children and other vulnerable populations. The bill drew criticism over its failure to allow individual states to set stricter chemical-safety standards than those imposed by the EPA.
Fred Upton, R-Mich., said the bill's supporters range "from environmental and public health groups to large and small industrial organizations."
Hank Johnson, D-Ga., objected to the bill's pre-empting "the rights of the states to protect the health, safety and welfare of their citizens."
A yes vote was to send the bill to the Senate.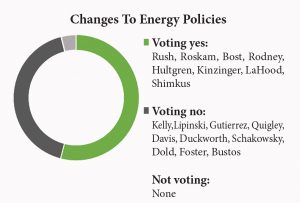 Changes To Energy Policies: Voting 241 for and 178 against, the House on May 25 passed an environmental deregulation and energy bill (S 2012) that would spur exports of liquefied natural gas; modernize the electrical grid; speed the permitting process for natural-gas pipelines and oil and gas drilling on federal land; promote hydropower and waive environmental protections under laws such as the Clean Water Act and Endangered Species Act.
Fred Upton, R-Mich., said the bill seeks to protect the electrical grid "from new threats, including severe weather…cyber threats and physical attacks as well."
Jerry McNerney, D-Calif., said the bill "would weaken the Endangered Species Act" while stoking "a water war in the West just at a time when we are working to bridge those divides."
A yes vote was to send the bill to conference with a far different Senate bill.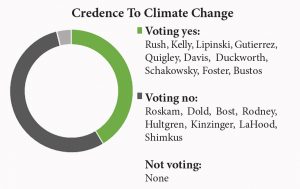 Credence To Climate Change: Voting 178 for and 239 against, the House on May 25 defeated a motion by Democrats requiring agencies to give weight to climate change when ruling on applications to build energy projects under the terms of S 2012 (above). The motion states "the scientific consensus is unequivocal that climate change is real…."
Scott Peters, D-Calif., said: "The stakes of climate change have never been higher. The time to act is now."
Ed Whitfield, R-Ky., said House Republicans "recognize that the climate is changing" but "do not believe that climate change is the number one issue facing mankind."
A yes vote was to adopt the motion.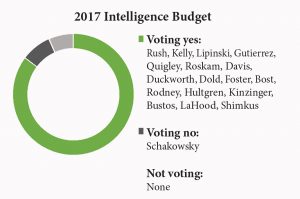 2017 Intelligence Budget: Voting 371 for and 35 against, the House on May 24 authorized a fiscal 2017 budget (HR 5077) of more than $80 billion for the 16 U.S. civilian and military intelligence agencies, with the actual figure classified. The bill funds cyber warfare and space- and sea-based assets along with counter-terrorism operations against ISIS and spycraft to counter nations such as Russia, China and Iran. The bill authorizes student-loan-forgiveness programs to help agencies recruit intelligence officers, seeks to better diversify workforces and funds private-sector development of experimental technologies.
Devin Nunes, R-Calif., said threats facing America are "higher than at any time since 9/11. ISIS has established safe havens in Syria, Iraq and Libya, and the group hopes to create caliphates stretching from Lebanon to Iraq, including Jordan and Israel."
Adam Schiff, D-Calif., said: "Our space, cyber and sea assets are the most advanced in the world, but unless we are careful, they will become increasingly vulnerable."
No member spoke against the bill.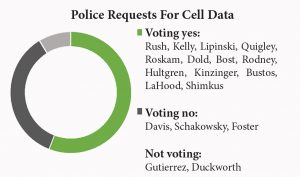 Police Requests For Cell Data: Voting 229 for and 158 against, the House on May 23 failed to reach a two-thirds majority needed to pass a bill (HR 4889) requiring telecom firms to comply with emergency police requests, made without court orders, for data pinpointing the location of cell phones at developing crime scenes. Concerns over privacy violations stirred sufficient opposition to defeat the bill. Under the bill, companies complying with such police requests would be immunized from civil lawsuits.
Kevin Yoder, R-Kan., said "we are blessed with modern technology that affords law enforcement with a tool to save lives without Americans giving up any of their privacy."
John Sarbanes, D-Md., said the bill was flawed because it fails to require law enforcement to seek a court order in a 48-hour window after it makes the emergency request.
A yes vote was to pass the bill.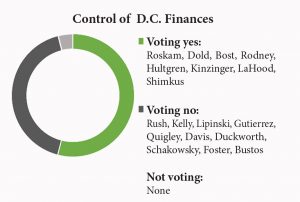 Control of  D.C. Finances: Voting 240 for 179 against, the House on May 25 passed a GOP-sponsored bill (HR 5233) that would prohibit the District of Columbia from spending its local tax revenue — about $13 billion annually — without congressional approval. This would nullify the results of 2013 special election in which voters granted D.C. autonomy to spend its own money as it sees fit. However, bill backers said the Constitution gives Congress total control over the federal city. In addition to its own tax revenue, the city receives a federal payment of several hundred million dollars annually to reimburse it for tax revenue lost and expenses incurred as a result it being the nation's capital.
Michael Burgess, R-Texas, said the budget autonomy asserted by D.C. "violates both the United States Constitution and the District of Columbia Home Rule Act."
Gerald Connolly, D-Va., said "the very Constitution my friends cite protected slavery….The fact that you exercise your will over an entire city just because you can does not make it right or noble."
A yes vote was to send the bill to the Senate.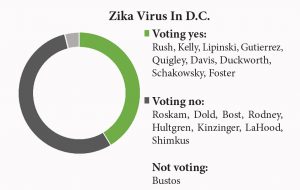 Zika Virus In D.C.: Voting 179 for and 239 against, the House on May 25 refused to allow the District of Columbia to use locally raised revenue to fight the Zika virus without first receiving congressional approval. The motion was offered to HR 5233 (above).
Sponsor Gerald Connolly, D-Va., said his measure would "preserve a small modicum of the District's control over local taxpayer dollars to prevent and treat the emerging threat of Zika."
Mark Meadows, R-N.C., said the House "within the last few days…passed funding to address the Zika virus' potential healthcare concern…."
A yes vote was to adopt the motion.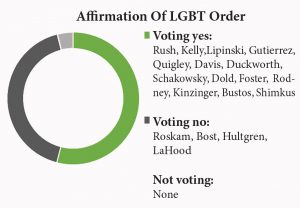 Affirmation Of LGBT Order: The House on May 25 voted, 223 for and 195 against, to affirm an executive order by President Obama prohibiting companies receiving federal contracts from discriminating against employees based on the fact that they are lesbian, gay, bisexual or transgender (LGBT). The amendment was added to the 2017 energy and water appropriations bill (HR 5055, below). This reversed the outcome of a roll call on May 19 when the House repudiated the LGBT order by a one-vote margin, with seven members switching their votes from support of the order to opposition after the allotted voting time had expired.
Those members — Republicans Bruce Poliquin of Maine, David Young of Iowa, Greg Walden of Oregon and Darrell Issa, Mimi Walters, Jeff Denham and David Valadao of California — all voted to uphold the presidential order this time around.
Sean Patrick Maloney, D-N.Y., said: "Making it easier to fire LGBT Americans, even LGBT veterans, isn't honoring our values. It is sacrificing them to preserve a worn out and dying prejudice that weakens our nation rather than strengthening it."
Joseph Pitts, R-Pa., said Obama's order "defines a law that was never defined by Congress. It violates the equal protection rights of individuals who are merely seeking work from the government."
A yes vote was to affirm the LGBT order.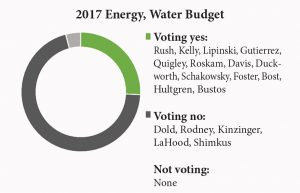 2017 Energy, Water Budget: Voting 112 for and 305 against, the House on May 26 defeated a Republican-drafted bill (HR 5055) that would appropriate $37.4 billion for energy, water and nuclear-safety programs in fiscal 2017. The unexpected rejection occurred after many GOP members turned against the bill over its inclusion of LGBT provisions (see preceding issue). The bill was opposed by 55 percent of Republicans who voted and 96 percent of Democrats who voted, with Democrats basing their opposition on the bill's environmental and gun language, among other provisions.
Mike Simpson, R-Idaho, said: "This is a responsible bill that recognizes the importance of investing in this nation's infrastructure and national defense."
Marcy Kaptur, D-Ohio, objected to "ill-suited ideological or nongermane riders on the Clean Water Act, guns on Army Corps' lands, National Ocean Policy and the California drought."
A yes vote was to pass the bill.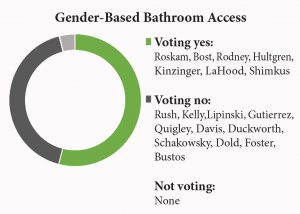 Gender-Based Bathroom Access: Voting 227 for and 192 against, the House on May 25 amended HR 5055 (above) to prohibit the administration from denying federal funding to school districts because of their gender-based bathroom policies. The administration has threatened aid cutoffs to schools failing to allow transgender students to use the bathroom that matches their gender identity. This directive conflicts with laws such as one in North Carolina that require individuals to use the bathroom corresponding to the gender they were assigned at birth.
Mark Walker, R-N.C., said America "was founded on the strength of diverse values. During this time of heated rhetoric, we must focus on maintaining a civil society where the government does not punish people for what they believe, but allows an open discourse to all…."
Marcy Kaptur, D-Ohio, said: "Prohibiting the federal government from being able to withhold or revoke funding in a particular state would abandon" the Republican Party's credo of "fiscal responsibility and government accountability."
A yes vote opposed the use of aid cutoffs as a tool for enforcing federal bathroom-access policies.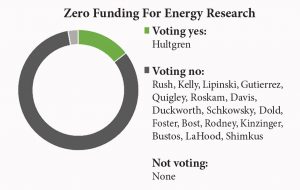 Zero Funding For Energy Research: Voting 80 for and 339 against, the House on May 25 defeated an amendment that sought to strip HR 5055 (above) of $3.48 billion — nearly its entire budget — for basic and applied research conducted or sponsored by the government in areas such as nuclear energy and fossil and renewable fuels.
Sponsor Ken Buck, R-Colo., said: " We must continue to invest in renewable, nuclear and fossil energy technologies — but the investments in these projects should be left to the private sector, where firms can decide whether or not to take on the risk."
Mike Simpson, R-Idaho, said the first nuclear-powered submarine needed refueling after six months, but "we now fuel…for the life of the ship, which is an incredible advancement. But that is done through government research. So while it would be nice to say the private sector ought to do all these things, the reality is the private sector can't do all of those things."
A yes vote was to adopt the amendment.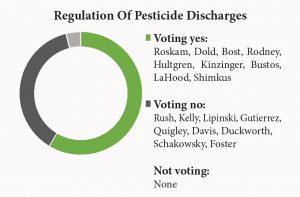 Regulation Of Pesticide Discharges: Voting 258 for and 156 against, the House on May 24 passed a bill (HR 897) that would prohibit the Environmental Protection Agency from requiring permits under the Clean Water Act for discharges into waterways of pesticides that are authorized for use under the Federal Insecticide, Fungicide, Rodenticide Act (FIFRA).
Bob Gibbs, R-Ohio, said that with the mosquito-borne Zika virus en route to the U.S., the bill would give "states and local entities that spray to control mosquito populations the certainty and the ability needed to protect public health."
Raul Ruiz, D-Calif., said "let's be frank, this bill has nothing to do with combating Zika," but "does away with critical…oversight provisions that allow us to track when and where harmful pesticides are used."
A yes vote was to send the bill to the Senate.
UNITED STATES SENATE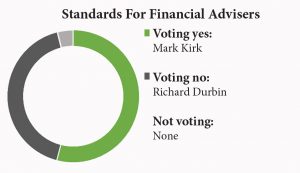 Standards For Financial Advisers: Voting 56 for and 41 against, the Senate on May 24 passed a measure (HJ Res 88) that would kill a new Department of Labor rule requiring those who provide professional advice to retirement and pension plans to adhere to fiduciary standards obligating them to put clients' financial interests ahead of their own. Due to take effect in April 2017, the regulation stems from the 2010 Dodd-Frank law. At present, only some financial advisers and brokers are required by federal regulations to obey fiduciary standards in advising clients.
Johnny Isakson, R-Ga., said putting "more restrictions on those who provide business to small savers…is causing more people to go on the safety net of American government benefits and less people to provide for themselves."
Patty Murray, D-Wash., said the rule is needed because "some financial advisers have lined their own pockets by steering clients toward complicated investments," receiving "a commission when they sell a financial product, even if it doesn't make sense for the client."
A yes vote was to send the measure to President Obama and his expected veto.
Sexual Assaults, Victims' Rights: Voting 89 for and none against, the Senate on May 23 passed a bill (S 2613) that would require police departments to preserve evidence submitted by sexual-assault victims in so-called rape kits and notify them of test results including DNA matches. Authorities also would have to notify victims of their right to receive a forensic medical examination. The bill also extends the time allotted minor victims of sex crimes for bringing their assailants to justice. In addition, the bill would authorize $81 million annually in fiscal 2017- 2018 for Department of Justice grants to states and localities for registering sex offenders.
Dianne Feinstein, D-Calif., said the bill would benefit individuals sexually exploited as children who now are "courageously coming forward, many years after the abuse took place."
No senator spoke against the bill.
A yes vote was to send the bill to the House.