Data shows Illinois public schools made progress
By Kevin Beese Staff reporter —

November 6, 2017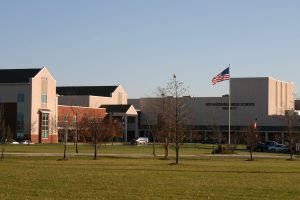 Switching to the SAT as the measuring stick for high school students in Illinois seemed to agree with many students as a host of school districts across the state saw double-digit jumps in pupils meeting and exceeding state standards.
From close to a 71 percent hike in students meeting or exceeding standards in north suburban New Trier High School to a more than 26 percent increase in students showing proficiency in Freeburg High School in St. Clair County, many high schools fared far better on this year's Illinois Report Card than on last year's statistical report.
All high school juniors took the Scholastic Aptitude Test last spring as both a free college entrance exam and Illinois' high school accountability assessment for math and language arts.
Tony Smith, state superintendent of education, said the strong showing by many high school students across the state, as well as grade-school students' stellar performance in many areas, show that education is headed in the right direction in Illinois.
"The strengths and opportunities apparent in the data show that our balanced accountability system is looking at the right measures," Smith said. "Educators know how students' attendance and success at critical transition points like the third grade, the ninth grade and the first year of college strongly correlate to future success. Accountability starts with focusing on the numbers that matter for students."
He said for students' performance numbers to go up in many areas despite the ongoing funding issues that played out in Springfield is a credit to both teachers and pupils.
"Illinois educators and students worked incredibly hard under extreme financial uncertainty. Their passion and dedication is clear," the state superintendent said. "The state is committed to exploring new ways to attract highly qualified and diverse professionals to answer the call to teach … I believe we are on the right path to create the conditions for students to thrive."
Statewide, 39.8 percent of students achieved proficiency (met or exceeded standards) in language arts while 36.4 percent achieved proficiency in math on the SAT. Students have access to free, supplemental online resources from Kahn Academy to improve their mastery of Illinois Learning Standards assessed by the SAT.
Other statewide highlights from this year's Report Card include:
The percentage of third- through eighth-grade students meeting or exceeding standards in language arts on the Partnership for Assessment of Readiness for College and Careers test increased from 36.5 in 2016 to 37 percent in 2017.
Third- through eighth-grade students meeting or exceeding standards in math on the PARCC assessment decreased from 31.6 percent in 2016 to 31.2 percent in 2017.
The rate of high school students graduating in four years increased from 85.5 percent to 87 percent.
Students enrolled in college 12 montsh after graduating from high school also increased from 67.8 percent to 69.5 percent.
Pupils enrolled in college 16 months after graduating from high school rose from 71.4 percent to 73.2 percent.
The percentage of state public high school graduates enrolled in state community colleges and taking remedial courses improved from 49.4 percent for the Class of 2015 to 46.8 percent for the Class of 2016.
Students in 10th through 12th grades taking advanced course work (Advanced Placement, International Baccalaureate and dual credit classes) rose slightly from 154,290 in 2016 to 154,371 in 2017.
The number of Advanced Placement exams taken increased from 270,770 in 2016 to 294,336 in 2017.
The rate of Advanced Placement exams passed remained stable, increasing slightly – from 65.3 percent to 65.5 percent.
Ninth-grade students on track to graduate increased from 82.4 in 2016 to 87.1 percent in 2017.
Eighth-grade students passing Algebra I increased from 28.4 in 2016 to 29.5 percent in 2017.
Teacher retention increased from 85.8 percent in 2016 to 86.3 percent in 2017.
The average school administrator's salary increased by $2,639, going from $103,634 in 2016 to $106,273 in 2017.
—  Data shows Illinois public schools made progress —-