City considering increase in private boot fees
By Kevin Beese For Chronicle Media —

September 5, 2017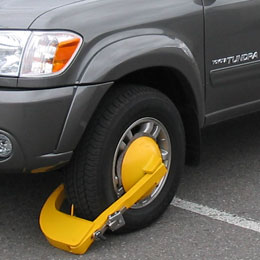 Illegally parking in private lots in Chicago could be getting more costly.
Aldermen are considering changes to the municipal code that would allow companies that boot illegally parked vehicles — instead of towing them — from private lots to collect up to $180 from parking scofflaws. Currently, getting a private-lot boot off a car costs $140.
Private-lot boots are different than the municipality's boots used on vehicles when a motorist has unpaid parking tickets or other violations.
Aldermen had sought to have all individuals doing the private lot booting of vehicles checked for felony convictions. However, state and federal law prohibits fingerprinting and criminal history reports on booting employees.
When a booting company's owner seeks a license from the city, the owner and any officers can be fingerprinted, employees cannot.
"We don't want thugs in these positions," said Ald. Proco Joe Moreno (1st Ward), sponsor of the regulation changes for booting companies.
He added that he would like to see an opportunity for individuals with a felony conviction to be able to join booting companies after a certain amount of time following their time in prison.
"For many things, individuals qualify after three years or five years (being out of prison)," Moreno said, "or whatever a reasonable amount of time is."
Joy Adelizzi, deputy commissioner of the city's Department of Business Affairs and Consumer Protection, said her department is not equipped to handle the fingerprinting and checking the backgrounds of booting employees.
"It would be onerous to have us check on employees," Adelizzi said.
Some aldermen questioned if booting companies would just pass the costs of background checks, and required uniforms and training onto minimum-wage employees as a condition of their employment.
Michael Denegris, president of Global Parking Management, one of the four private-lot parking boot companies operating in the city, said his employees are taken care of financially.
"Our employees are way over minimum wage," Denegris said.
Rosanne Parone-Denegris, an executive with Global Parking, said that her firm pays for employees' background checks, as well as their training and uniforms.
The City Council's Committee on License and Consumer Protection tabled discussion of the issue last week wanting to hear from the other three private parking boot operators in the city on what kind of impact the proposed license requirements would have on their business. The committee is expected to take the issue up again at its meeting later this month.
Michael Denegris said lots covered by his firm already far exceed city regulations in terms of signage.
"The ordinance says two signs; we put five to 10 in every lot," Denegris said.
He said unlike tow truck operators, his lot monitors are hourly employees.
"Towing companies work on commission. They don't care who they tow," Denegris said.
The Global Parking president said he trains many of his lot monitors himself.
"I tell them, 'They are not mad at you; they are mad at the boot,'" Denegris said.
Ald. George Cardenas (12th Ward), a member of the License and Consumer Protection Committee, said that he could not support the proposed ordinance changes, saying the $40 increase for violators was out of line.
Adelizzi said many businesses use the booting of vehicles as an alternative to towing. She said monitors watch the lots to detect scofflaws. Towing companies, she said, only respond after a phone call about a violation or if they come across a violator during their lot-to-lot travels.
Ald. Tom Tunney (44th Ward) said he first became aware of private parking boots when he saw them in use at Clark Street and Belmont Avenue.
"People were parking in Dunkin' Donuts and going to another store," Tunney said. "Parking spaces continue to be far and few between in that area."
Read the current issue of the Cook County Chronicle
Free subscription to the digital edition of the Cook County Chronicle
—-  City considering increase in private boot fees  —-