A helping hand
January 15, 2014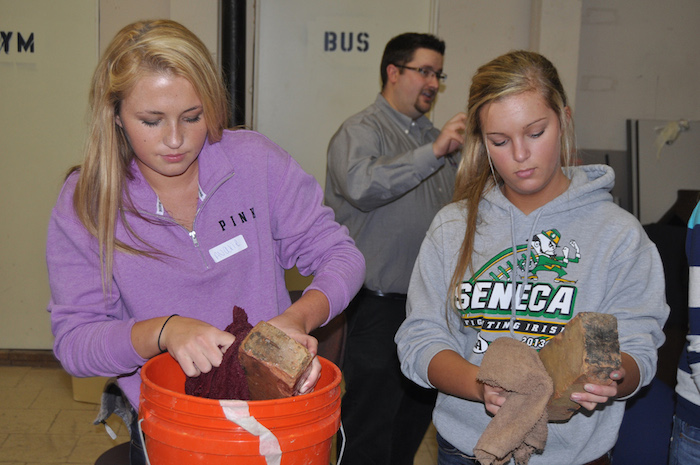 Yorkville resident Avarie Wilson, left, and Erica Magee, Big Rock, were among 20 Aurora Christian High School students who washed, dried and stacked about 200 bricks at Wayside Cross Ministries in Aurora last Thursday. In the background, Kale Little, Wayside outreach coordinator, supervised.  The bricks, salvaged from a Wayside construction project, will be used to honor donors.  Al Benson photo.
Teens offer food, prayers and brick-washing in day of service
Christmas is gone but Aurora Christian High School students brought the spirit of giving into the new year.
Near-zero temperatures didn't deter 20 ACHS students, including a 2011 grad, from serving others in downtown Aurora last week.
The teens—freshmen through seniors–from Geneva, to Yorkville to Naperville, set up a free hot chocolate stand outside the Hope Chest resale store at 36 N. Lincoln Ave.  Courtney Parish of Yorkville, a 2011 ACHS graduate, returned to help with the project.
The store is a division of Wayside Cross Ministries, an Aurora-based nonprofit rescue mission that serves men, women, youth and children in the Chicago area.
Along with steaming cups of hot chocolate, the ACHS teens offered pedestrians and store customers free candy bars, granola bars and personal prayers for individual needs.
Kelli Wilson of Yorkville, an ACHS parent and co-leader of the delegation with her husband Chris, said the mission-service group was called Teens on a Mission.
According to Wilson, TOM is an ACHS "Winterim" class, a three-day experience that students volunteer for.
"The main purpose of this class and project," Wilson said, "is to be Jesus' hands and feet and serve."
"We stress the importance of local missions and ministry in our local community".
"We believe our mission should be the same here in our community as it is in foreign countries."
" We are to be on a mission everywhere we go!" Wilson said.
Wilson added that she and her husband also support an orphan care ministry in various countries.
In two hours, the teens handed out more than 30 cups of hot chocolate.
Wilson said, "Our students' main goal was to offer prayer to anyone who wanted it. The day was extremely successful and the students have had many stories.
"The kids had a chance to pray for a father's son in prison, multiple people seeking jobs and other prayer requests including illness, safety, a blessed day and rough family situations."
"Our class will continually be praying for these people because we know God is faithful!" Wilson said.
Later, in an upper room at the mission, the teens set up an assembly line-type operation to handwash, dry and stack about 200 bricks.
Salvaged from a construction project underway at the mission, the bricks will be inscribed with names of donors contributing to the project.
Kale Little, Wayside outreach coordinator, supervised and provided background on mission operations.
"Our students were very happy to know we helped this organization and ministry," Wilson said.
"They said they wished the day went longer and really were humbled to learn about the men and women's programs at Wayside"
"They really enjoyed the one-on-one time praying for the people outside the facility and were very moved by how welcoming Kale and the workers at Wayside were to us, " Wilson said.
–Al Benson