A hunger to help
March 12, 2014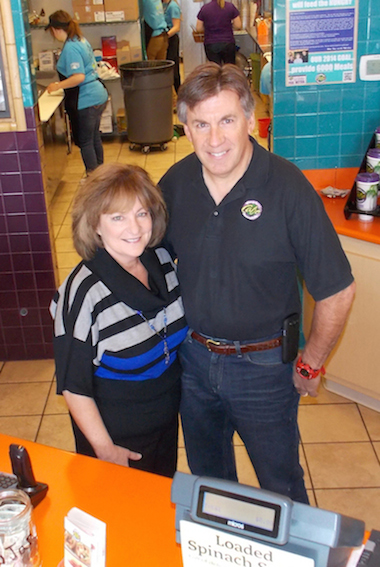 Terri and Mike Ward, owners of Huntley's Tropical Smoothie Cafe, have served up a plan to provide restaurant-quality meals to the less fortunate through donation of their profits to a local food pantry. (News Bulletin photo)
Huntley restaurant serves up mission to help less fortunate in community
The menu at the storefront restaurant with the tropical theme promises luscious smoothies and tasty wraps and sandwiches.
Mike and Terri Ward, owners of Tropical Smoothie Cafe located on a busy stretch of Illinois Route 47 in Huntley, have  had no problem delivering on that that pledge.
A steady stream satisfied regulars and new customers attests to that.
But about six months ago the couple decided they wanted to do something more.
"What if we turned the restaurant into a way to feed people who can't afford to go out to eat?" said Mike Ward. "There's always going to be the food pantry where they could get food but wouldn't it be cool to extend that and take their family out and get a nice meal?"
The result was a new promise: They would devote all profits to feeding less fortunate through a voucher system conducted by a local food pantry.
"We've always thought that to whom much is given, much is expected," said Terri Ward. "And we've always tried to bless back. … We felt we were given this for a reason."
The Wards created a registered charity called Dignified Dining with the purpose of offering restaurant quality food and services to those who cannot afford it.
Profits from Tropical Smoothie Cafe are now donated to Dignified Dining and money forwarded to the Grafton Food Pantry, affiliated with local Grafton Township.
"We thought about it,  prayed about it and in the end came up with this notion of taking our profits and converting them into food vouchers that would be distributed to the food pantry."
The pantry recently began issuing vouchers good for smoothies and sandwiches at the Wards' restaurant.
The goal is to serve up to 6,000 meals this year. 
"Now that we've got this, that makes (the business) every more worthwhile," Mike Ward said. "Now it's  become more of a mission."
Tropical Smoothie Cafe is part of a 350-outlet nationwide chain. Five are in Illinois, includng the Huntley location at 12162 Route 47.
"We opened up the restaurant in August 2011 and it was just your basic restaurant as far as any format goes," Mike Ward  said. "And about six months a go we started thinking about  this idea about how we could give back more to the community."
"We've always done things like fundraisers, we've been big on helping the young adjust in terms of providing jobs for them and helping churches."
The Wards have a staff of paid younger workers and are seeking volunteers to work with the non-profit Dignified Dining division. 
"Volunteers help reduce labor costs and help maximize donations," the Wards said.
—Jack McCarthy