Can this schoolhouse be SAVED?
April 16, 2014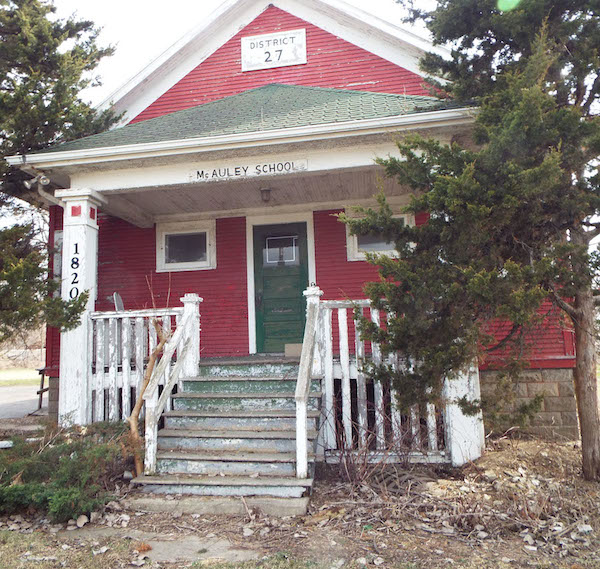 News Bulletin photo.
Preservation group tries to rescue one-room McAuley School
Red exterior paint is peeling, a wooden staircase and porch appear in disrepair and the chain link fence around the property has seen much better days.
Yet the long-shuttered McAuley School building still maintains a shabby dignity as it sits hard along Illinois Route 38 in West Chicago.
But can this historic one-room schoolhouse ultimately be saved?
Landmarks Illinois, a statewide preservation group. hopes to preserve and protect the structure in some fashion, drawing attention earlier this month with inclusion in its Top 10 Statewide Endangered list.
The group's list also includes a regional landmark Camp Algonquin in unincorporated McHenry County and other properties that range from a shuttered theater in Chicago, a St. Clair County water tower, a military hospital in Galena and a manufacturing district on Chicago's South Side. 
"The (McAuley) building is presently in a state of disrepair with no plans for its future use or disposition," Landmarks Illinois said in a statement. "Its location on the edge of Roosevelt Road   – a busy four lane highway – near Fabyan Road puts the school at risk as the area continues to see commercial development."
A peek through dirt-streaked windows showed an empty superintendent's office connected to a classroom that featured a chalkboard, several large paint containers and little else.
McAuley Schoolhouse,  a one-story frame structure located at 1820 W. Roosevelt Road, was reportedly Illinois' last functioning one-room schoolhouse when it closed in 1992.
The structure was built in 1913 on land donated by homesteader George McAuley in 1857 and a school operated continuously on the property for 135 years. 
It was placed on the National Register of Historic Places in 1982.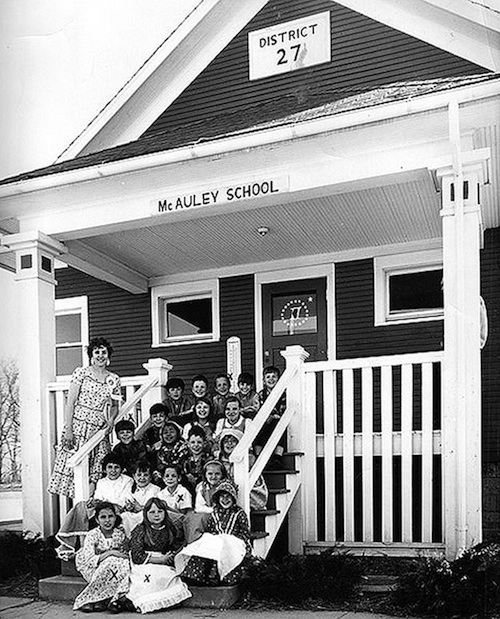 McAuley School class poses on the front steps in 1968 (above; photo by Adam B. Gibbons via Landmarks Illinois).  Some 46 years later, the now shuttered school is considerably worse for wear. (below; News Bulletin photo).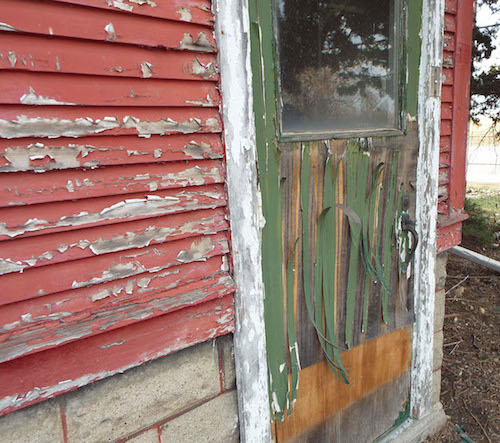 "The schoolhouse served many generations of residents in West Chicago and DuPage County," Landmarks Illinois stated. "People have fond childhood memories of their time at McAuley and want to share these experiences with their children, grandchildren and others.  Because of its simplicity and sturdiness, the one-room schoolhouse is an excellent reuse candidate."
Some former one-room schoolhouses have successfully been converted to new uses. 
In McHenry County, the one-room West Harmony School is now located on the McHenry County Historical Society campus in Union and used for programs.
In Kendall County, the one-room Union School was moved from NaAuSay Township to a permanent home on at Lyons Farm in Yorkville, owned by the Kendall County Historical Society. The schoolhouse has been restored and is open during regular museum hours and for special events.
McAuley had 21 students in 1987, according to a Chicago Tribune report. That year a petition drive was under way among residents in West Chicago District 33 to annex McAuley Distict 87.
The McAuley district was finally dissolved in 1992, absorbed by its larger neighbor.  Just four students were enrolled for its final school year, according to a later Tribune account. The larger West Chicago District 33 agreed to maintain the building in its present location.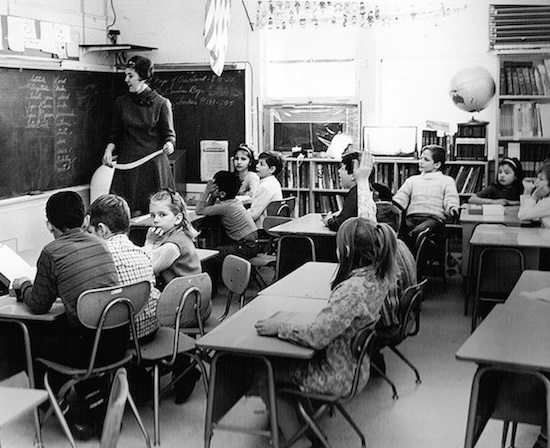 The classroom is snug but busy as students follow a lesson at McAuley School in 1970. (Adam B. Gibbons photo via Landmarks Illinois).
About a dozen years ago there was an effort to move the structure and convert it into a museum. But the attempt fizzled, according to a published report.
Information on any recent preservation efforts is hard to come by. Landmarks Illinois offers a link to a Facebook page: https://www.facebook.com/McAuleySchool. But the site had only two posts and no additional information.
Landmarks Illinois' 2014 Top 10 most endangered properties, as well as highlights from previous years, is available at www.landmarks.org.
–Jack McCarthy