Fun at Fermilab
February 13, 2013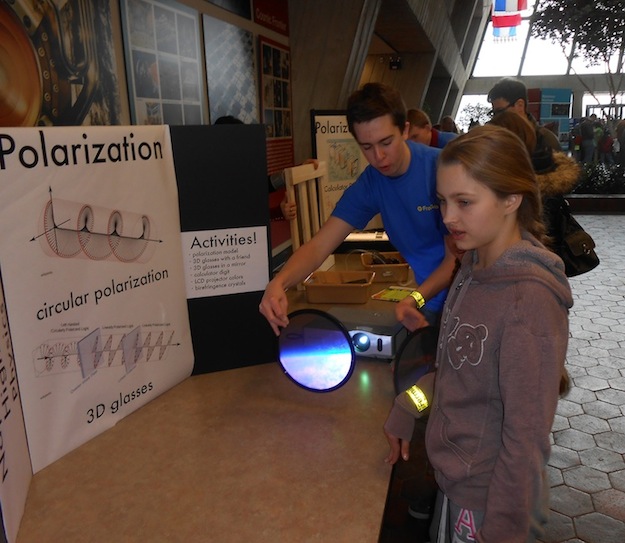 A high school student demonstrates polarization to a visitor during Sunday's annual Open House at the Fermi National Accelerator Laboratory in Batavia.  Photo by News Bulletin staff.
It was a hands-on kind of day at Fermilab on Sunday.
In the atrium lobby of Wilson Hall, kids moved from table to table as part of a "physics carnival"  testing magnets, checking out light filters and even trying to successfully pull off the magician's classic — pull a tablecloth out from under dishes.
It was fun with a purpose as the Batavia-based Fermi National Accelerator Laboratory sought to get kids excited about science.
"We want them to come in, have fun, and think about science as something they could do," said Spencer Pasero, an education program leader at Fermilab. 
The annual Open House ran from 1 to 5 p.m. and was a perfect antidote for a dreary, rainy Sunday as kids and families maneuvered between the atrium to talks in nearby lecture halls to  question and answer sessions with scientists on the 15th floor of Wilson Hall.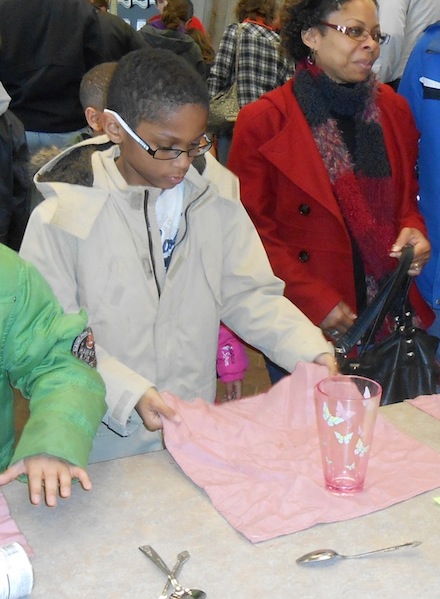 Above, a youngster attempts a tricky feat—remove a cloth from underneath a cup with little disruption.  Below, a life-sized experiment showing motion and reactions is among the attractions to Fermilab visitors.  Photos by News Bulletin staff.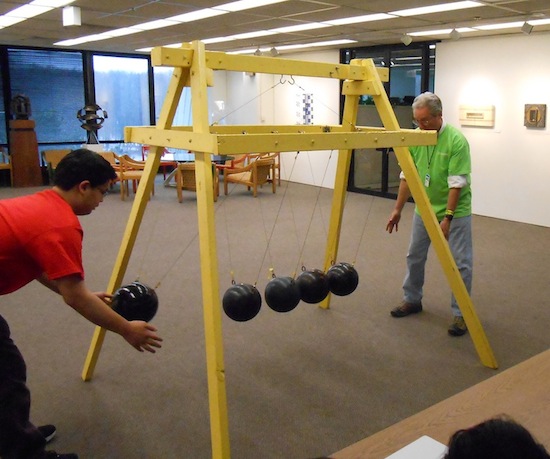 The top floor also offered a hazy overview of the Fermilab property and a full-scale model of part of the Tevatron collider that ran on a four-mile underground loop until its 2011 shutdown. 
There was also the opportunity to go underground for guided tours of the Fermilab's linear accelerator and main control room.
Back upstairs there a was a performance by Jerry Zimmerman as "Mr. Freeze," demonstrating the  cool effects of liquid nitrogen; Mike Cooke's show "FUNdamental Physics," and Herman White's historical talk "Great Science on the Prairie."
First-floor interactive exhibits, meanwhile, were run by students from Naperville North and Naperville Central and three Chicago high schools. 
The event was sponsored by non-profit Fermilab Friends for Science Education and made possible by an anonymous donor.