Making the pitch
November 6, 2013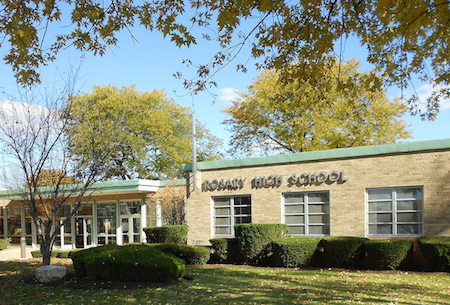 Rosary High School is run by the 140-year old Dominican Sisters order, based in Springfield, Ill.  (News Bulletin photo)
Rosary open house highlights values, academics (and no boys)
Rosary High School has a solid academic reputation, devoted alums and a dedicated staff and support community.
But sustaining the school through the next generation of students sometimes requires a bit of a sales pitch.
So the all-girls college preparatory school on Aurora's far west side opened its doors to prospective members of the Class of 2018 last Sunday, offering a taste of academics, extracurriculars and its commitment to Christian values and community service.
More than 200 persons—mostly parents with eighth graders in tow—came on a sun-splashed afternoon to see just how Rosary operates.
"We're not perfect, but we do a lot of great things," said principal Sister Ann Brummel, O.P. "Why send your daughter to Rosary? Because we help them grow in their faith, because we help each and every one reach their potential."
The school stresses rigorous academics and the Class of 2013 reported an average ACT test score of 25.7, more than five points above the state average. 
The top 10 percent of that class had a 32.7 average score and Brummel proudly reported more than 100 percent of last year's graduating seniors were accepted into college.
As a single-gender school there are fewer distractions—like boys—and a lot of Rosary students prefer it that way.
"Girls think, absorb information and communicate differently than boys," a school information brochure stated. "This can affect how well you experience the classroom, your world and how you process math, science and technology."
Much of Sunday's two-hour open house was devoted to academics and students in Rosary uniforms guided visitors to bright classrooms for 15-minute surveys of various programs. 
But it's not all work.

 A statue of St. Catherine of Siena, a 14th century Catholic philosopher, preacher and patron saint of Italy, is featured in front of the school building. (News Bulletin photo)
There's plenty of opportunities to have fun through clubs and extracurricular sports and arts. The Open House offered a sneak peak at this weekend's student production by "Bye-Bye Birdie."
There's even the chance to meet guys.
Rosary has a historic link with all-boys Marmion Academy and the schools share many activities and social events.
Opened in 1962 and sponsored by the Springfield, Ill.-based Dominican Sisters, Rosary has a current enrollment of around 770 and draws students from 36 communities in six counties. 
It's among many private school choices available in the Fox Valley and western suburbs.
Along with Marmion, other nearby Catholic offerings include Aurora Central Catholic, St. Edward in Elgin, St. Francis in Wheaton and Benet Academy in Lisle. Christian institutions include Wheaton Academy and Aurora Christian.
Rosary charges $8,900 for yearly tuition but financial aid and scholarships are available. 
"It's a wonderful, wonderful place to send your daughters and young ladies to get an excellent education and really grow into the woman that God has intended her to be," said Meg Olsen, director of admissions.
—Jack McCarthy