Take your mark
March 12, 2014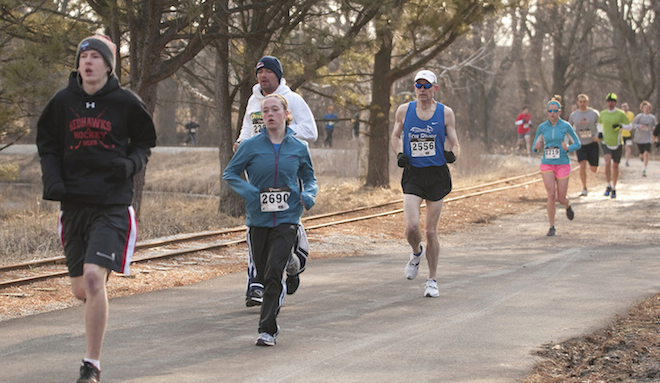 Runners competing in last year's Fox Valley Park District 5K Spring Gallop. (FVPD photo)
2014 running season kicks off with 5K Spring Gallop
By nature, runners are among the most adaptable athletes out there. They train in virtually all weather conditions and encounter every type of terrain, from busy streets to muddy trails.
It's a good thing they're so versatile, considering our crazy climate. Two years ago this month, we had a bizarre stretch of 80-degree days. Last year, it was a March snowstorm. And this year, we've endured more below zero days than ever before.
Fortunately, running helps restore our sanity – especially at a place as beautiful as Blackberry Farm. On Saturday, March 29, the gun will sound for the seventh annual 5K Spring Gallop, now a favorite tradition for runners and walkers of all ages and abilities.
Hopefully, the law of averages will result in perfect spring weather as running season gets under way.
The 5K Spring Gallop is one of the earliest races on the calendar, and for many, it marks the official beginning of the outdoor running season. It's also run on one of the most beautiful, scenic courses of any race.
Unlike traditional road races, runners won't encounter sewer grates or broken glass or potholes or any associated hazards. Instead, they'll enjoy smooth footing on paved asphalt and crushed limestone along the rustic setting of the Virgil Gilman Trail and the spruce tree-lined trails encircling Lake Gregory.
An officially CARA-certified race, the 5K Spring Gallop will utilize the revolutionary chip timing system by It's Race Time, Inc., that will assure speedy and accurate results. 
Racers will be provided neoprene bands – no need to fiddle with attaching the chip to their shoe – and they will be timed at various points across the course.
This new timing system also features interactive results so racers can search, sort, see performance charts – and even share their individual results on Facebook with just a few clicks.
Alex Taylor was the overall winner a year ago with a time of 16:37, edging Nathan Kennedy of Bolingbrook in a tight race throughout that went down to the wire.
Sydney Tooze took top honors on the women's side in 21:25, outdistancing runner-up Audrey Harrod and her time of 21:37.
Race organizer and Blackberry Farm facility supervisor Sandie Gilmer is anticipating the field to be anywhere between 400 and 600 runners, depending on the weather. Nearly 500 runners competed a year ago.
Gilmer said the race will be held – rain, sun, snow or heat – with the starter's gun firing at 8:30 a.m. Entry fee is $29 ($25 for CARA runners) through March 21 – each pre-registered runner receives a long-sleeved T-shirt – with race day registration available from 7:15 to 8 a.m. for an additional $5.
Pre-race packet pickup is available March 27 and 28 from 3 to 7 p.m. at good ol' Blackberry Farm for those who want to get outfitted ahead of time.
Awards – stylishly designed, handcrafted medallions made in the Blackberry Farm pottery barn – will be given to the top three male and female finishers in each of 14 different age groups.
Take your mark – it's time to kick spring into gear.
—Jeff Long is the public relations manager for the Fox Valley Park District. Contact him at jlong@fvpd.net. To register for the 5K Spring Gallop, visit www.foxvalleyparkdistrict.org.