Bloomington Apartment Complex to House Paroled Women
March 20, 2013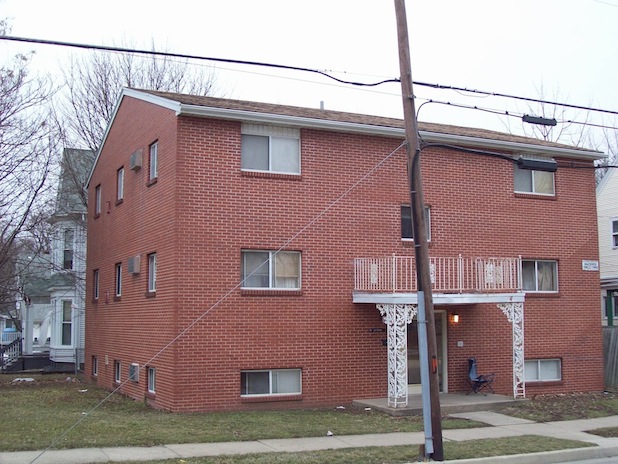 Six-unit apartment complex that Labyrinth Outreach Services to Women is going to renovate. That apartment complex is located at 502 N. Oak St. in Bloomington. Photo by Wes Schmidgall.
 BLOOMINGTON — With the help of the City of Bloomington and a private donor, a nonprofit organization plans to renovate a six-unit apartment complex that will house what has been deemed as the most under-served population in the Bloomington-Normal community: women who are getting out of prison. 
During a Feb. 25 meeting, the Bloomington City Council unanimously agreed to give Labyrinth Outreach Services to Women, a nonprofit organization within McLean County, $75,000 from a $587,500 Community Development Block Grant to renovate a six-unit apartment complex at 502 N. Oak St., Bloomington.
A private donor purchased the six-unit apartment complex that Labyrinth Outreach Services to Women will renovate.
"The person who bought it — he's doing this as a community service," said Labyrinth Outreach Services to Women Co-President Mary Campbell. "The arrangement we have is that when Labyrinth is financially able to purchase it back that any money that is paid on the principal up to that point — he will sell it back to us at that price. He's not in it to make a profit. He's in it to help the community."
The City of Bloomington is expected to release the $75,000 for the renovation to the nonprofit organization in late spring or early summer.
"As soon as they release the money, we'll start on a couple of units," said Campbell. "We'll probably do two at a time. There are currently five residents in the six-unit apartment building and they are all on a month lease. We want to work with the residents to help them find another place to live. Most of them are older and we want to help them find a quality place to live, so we'll do it gradually. As we do a couple of units and help those two residents who are moving out find a place —  when we get those done, we'll work on the next two."
The apartment units in the complex include one bedroom and a "very small kitchen," said Campbell.
"It's an older apartment built in the '70s," said Campbell. "They're decent size. It's not a luxury condo, but it will be very nice and it will be clean and it will be safe."
The renovation of the apartment complex will include the installation of new appliances, kitchen cabinets, plumbing fixtures and flooring.
"It's in need of new bathrooms, new kitchens, new flooring," said Campbell. "The walls are real solid. Structurally it's sound. It's just out of date."
The nonprofit organization will use one of the six apartment units for an office space for the social worker on staff and for a visiting space for when families come to visit the women housed at the facility.
 "Some of these women going to prison have children, but they've lost custody of them," said Campbell. "No children will live in the house, but they will be able to visit their moms there. There will be a kitchen. They can fix meals together. They can play together. It's a chance for them to reunite."
Paroled women will be allowed to live in the apartment complex for two years. During those two years, they will be required to learn a trade, work or attend school.
"It's not a free place to hang out," said Campbell. "It's a place where they can begin to get their lives back together. We're working with a lot of people who are willing to take a risk on hiring them. They'll be getting jobs. They'll be going to school. They'll be getting training.
"The contract that they'll have will be part of their money will go toward rent and part of it will go toward a savings account, so at the end of the two years they can get their own place, maybe a car, whatever it is they need to go to school and get a job."
The nonprofit organization is working with the Bloomington & Normal Trades & Labor Assembly, the AFL-CIO central labor organization for the Illinois counties of McLean, Livingston, Logan and DeWitt, to help paroled women obtain a pre-apprenticeship.
"It's hard enough to get a job right now, let alone with a felony," said Campbell. "And if you're a woman with a felony it's particularly difficult. We're working with the Trades & Labor, the unions here in town to develop an apprenticeship program so that any woman who is interested in learning a trade in plumbing, electrical, carpentry, concrete, whatever, they can go through the pre-apprenticeship program and then be identified and move up to the apprentice level. That way they have a chance of getting a job with a decent income and job security."
Labyrinth Outreach Services to Women has been providing services for women in county jails and state prisons since its formation in 2005. Social workers that work for the nonprofit organization travel to county jails and state prisons to meet women before they get out and offer them a series of services that they might need in order to be successful after being released. Programs related to substance abuse, domestic violence and mental health are offered to these women.
Currently, the nonprofit organization is operating out an office that Mid Central Community Action has provided for them. In addition to serving as a larger headquarters, the six-unit apartment complex will help the nonprofit organization obtain grants, said Campbell.
"Right now we only have a quarter-time social worker," said Campbell. "There's only so much people can do in 10 hours a week. In order to get funding from any kind of grant or foundation, generally you have to have a track record. Because we'll actually have a place, it will allow us to be more credible in the community."
To learn more about Labyrinth Outreach Services to Women, visit www.labyrinthoutreach.org.