Kick-off with The Bloomington Edge
March 5, 2014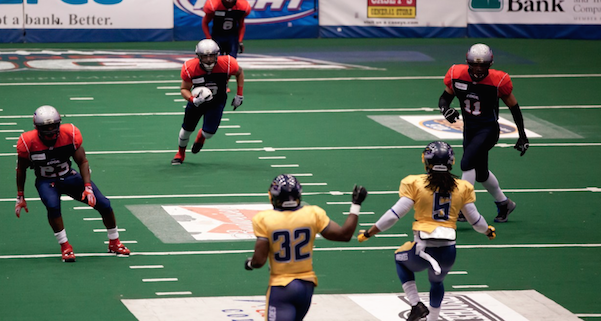 Photo Courtesy of Bloomington Edge.
The Bloomington Edge kick off the 2014 CPIFL season this Friday, March 7th with an away game against the Salina Bombers.
The Bloomington Edge, which moved to the newly formed Champions Professional Indoor Football League in 2013, failed to make it into the playoffs last season after making it in the prior 6 years straight. 
This season will be the first under new head coach John Johnson, who has spent several years as an assistant with the team. The team retained all of its assistant coaches from last season, to help continue building the team. 
"The league is good and there's a lot of competition among players" said Johnson. "Having the whole coaching staff back helps with a lot of the details and I think that's why a lot of the players came back."
The projected starting quarterback for the team this season is Charles Dowdell, who is returning to the Edge after previously playing for the team two seasons ago. The return of Andre Raymond, who broke the Bloomington single season rushing record in each of his past two seasons with the team, is also fueling excitement about the offense. 
"Andre is an outstanding player to get back on the field" said Johnson. "He is just as valuable on the field as he is off it and is a great guy to have in our locker room. He can catch the ball out of the backfield as good as any wide receiver and knows how to get into the end zone. Dre is a weapon that teams will have to account for every game."
The team hopes their new signings on defense, as well as the return of last year's leading tackler Ross Corchran, will help create a bigger and more physical defensive line. 
"We'll be a little more of a pop you at the line group this year, and we'll hurt people, legally of course." Johnson said. 
Special teams is also an area of focus for Coach Johnson's team this year. 
"I've talked to all of the guys about how we're here to develop them and move them up, and one of the niches is to be on special teams." Johnson said. "We are emphasizing that someone on special teams is not just there for one more play, but for one more opportunity, which is quite a different way to look at it." 
The team has been working hard the past few weeks during their pre-season training camp, with high hopes for a championship season. 
"I'm very excited and the kids make me feel young." Johnson said. "It's everything I've thought it would be and more. We start with a tough schedule with the first two games on the road, but I've been very pleased with the team's attitude and they're doing everything we ask them to do."
The Edge's home opener will be on Saturday, March 29th against the Omaha Beef at the U.S. Cellular Coliseum in Bloomington. 
The Edge's upcoming away games, at Salina, Kansas on March 7th and Lincoln, Nebraska on March 14th, will be streamed live on WJBC's website at http://client.stretchinternet.com/client/wjbc.portal#. Both games will take place at 7:05 pm. 
Tickets for single games are available through ticketmaster.com, while season tickets, which range from $79-$149, are available by calling 309-434-2980.
More information on the team, as well as their complete 2014 schedule can be found at their website www.bloomingtonedge.com.