Route 66 Red Carpet Corridor Festival
April 30, 2014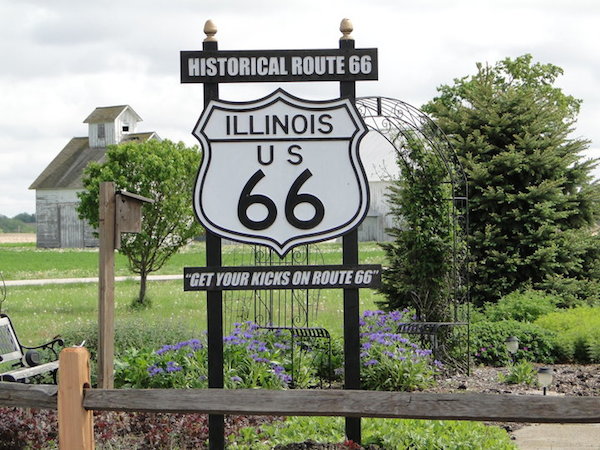 Photo Courtesy of Towanda Red Carpet Corridor Festival.
This May 3rd and 4th will mark the 8th annual Illinois Route 66 Red Carpet Corridor Festival. 
The annual festival is sponsored by twelve communities that span 90 miles along Route 66, from Towanda, IL up to Joliet. 
Those starting the drive from the south begin in Towanda and go through Lexington, Chenoa, Pontiac, Odell, Dwight, Gardner, Braceville, Godley, Braidwood, Wilmington, and end in Joliet. 
"There's something for everyone along the route," Sharon Arteman, who has helped organize Towanda's annual festival with her husband for the past eight years, said.  "There's a great small town America feel in each of the towns."
One of the annual traditions of the festival is to have a free collectible for people to pick up at each town along the route. Each year has a different theme of collectible which have included puzzle pieces, trading cards, and keys in past years. This years theme is postcards.
"Each town will have their own unique postcard that people can collect," Arteman said. "It's a good way to encourage people to continue driving the route to see what each town has to offer." 
One of Towanda's biggest draws is its' flea market. With over 40 vendors there's plenty of variety for people to look through. The flea market will be open both May 4th and 5th in Towanda's North Park and will have things such as crafts, antiques, hand made jewelry, and more. 
Route 66 shirts and memorabilia will also be available in North Park on both May 4th and 5th.
"The money we make from selling the memorabilia goes into the funds for future festivals," Arteman said. "It's how we fund everything, so we can continue having it every year."
Towanda's festival is also known for its' car show that will take place on Sunday, May 5th. The car show will have all types of cars, from classics to modern cars. Those wanting to display their car in the show can register for $10 from 8am until noon on Sunday. 
All ages are welcome at the festival, with activities planned for children as well. 
"The festival really does appeal to all age groups," Arteman said.  "For the children we have face painters, a cake walk, and Unique Twist Balloons from Peoria coming in for the festival."
Unique Twist Balloons will be in North Park from 12pm until 4pm on Saturday, and the cake walk will take place on Saturday as well at 1pm.
Many homes in the area will be having garage sales both Saturday and Sunday, as a part of Towanda's annual Spring Garage Sales. 
Beyond all the planned activities, the festivals charm comes from the people who attend it. 
"Talking with all the different people from other areas is one of my favorite things about the festival," Arteman said. "We also have such nice vendors that we consider family, that continue to come back every year."
For more information on all the activities and events along the Route 66 Red Carpet Corridor you can visit their website at http://il66redcarpetcorridor.org/ or call 815-844-5847
For more information on the Towanda Car Show you can call 815-579-6452 or visit http://www.joesgarage66.com/.