Eureka Library's Elevate Reading Campaign reaches goal
Chronicle Media —

February 8, 2017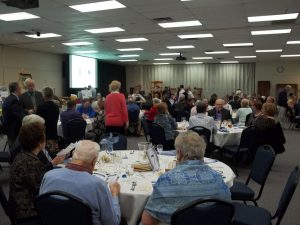 Eureka Public Library's Elevate Reading Campaign reached its fundraising goal of $80,000.
The combined contributions from personal and corporate donations, Friends of the Eureka Public Library, and the Elevate Reading Gala will help support costs associated with the installation of a passenger elevator and improvements to the children's library space.
The Elevate Reading Gala, held on Jan. 26, was attended by over 150 people and featured both silent and live auctions. The silent auction featured 53 items for attendees to bid on, and the live auction featured 12 items. Both auctions brought in over $4,000 each.
The top live auction item was a one-week condo stay on South Padre Island, Tex., which sold for $2,000. Two Ben Zobrist–signed items were also auctioned off. A pair of his batting gloves sold for $300, and a signed Eastbay catalog sold for $225. One of the top silent auction items was a 1985 City of Eureka board game, which sold for $150.
The passenger elevator is currently being installed. The children's library will be closed between Feb. 8 and 21 for painting, flooring, and shelving installation.  The project is on track to be completely finished in March or early April.
Community comes out to elevate Eureka Library
— Eureka Library's Elevate Reading Campaign reaches goal  —