Run With an Astronaut
April 9, 2014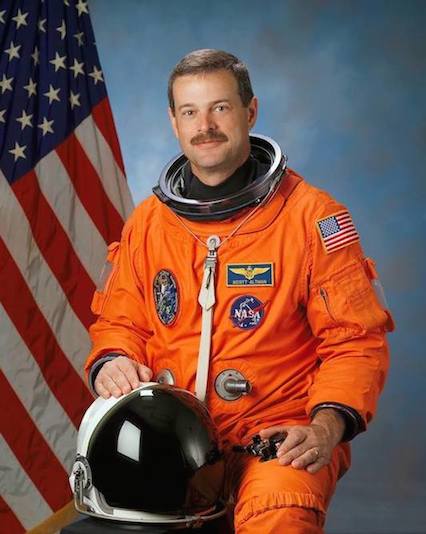 NASA photo of Scott Altman.
EUREKA – Former NASA space shuttle commander Scott Altman will participate in the 5K Run with Reagan on Saturday, April 12. The run will begin at 8:00 AM and will also feature a one-mile walk for those not up to running. Registration will be at the Alumni Tent, corner of Burgess St. and Reagan Drive. Proceeds from the event will go directly to the Ronald W. Reagan Society of Eureka College as well as the Alzheimer's Association. Each participant will get a race t-shirt and a post-race pancake breakfast.
At 11:30 on the same day, Commander Altman will speak on "Reaching for the Stars" at the college's Cerf Center. The luncheon is part of the Eureka College Alumni Weekend activities, and is open to the public. Cost is $30, $15 for Eureka College alumni, and $7.50 for Eureka College students. To register, contact the Alumni Office at 309-467-6319 or go to email alumni@eureka.edu. At the luncheon, Altman will discuss growing up in central Illinois and his experiences in the U.S. Navy and working in space. Altman logged more than 50 days in space during four space flights. He retired from NASA in 2010 and now is employed at ASRC Federal Research and Technology Solutions, Beltsville, Md., which supplies technical, mission-oriented services with contracts supporting multiple federal agencies.
Altman is a son of Eureka College alumni Fred and Sharon Altman of Pekin.