Leaked lies
By Bob Franken —

May 1, 2018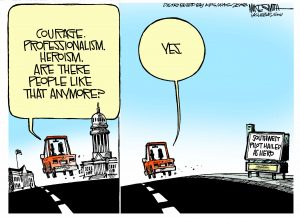 There's one aspect of the saga about the newly released batch of Jim Comey memoranda that I totally love. First, a bit of background.
In one of the contemporaneous memos the then-FBI director wrote to himself detailing conversations with the new President Donald Trump, Trump and Comey did agree on one issue: Both expressed a mutual scorn for leaks and leakers. They also seemed to feel that the reporters who publish leaks were fair game for putting the squeeze on, up to and including jailing us if we didn't reveal our sources. The new documents containing such tidbits were just declassified and sent to Congress by the Department of Justice after pressure from Republicans. Now, here's the part I love: The documents were immediately leaked to reporters.
The hypocrisy is exquisite. Jim Comey acknowledges leaking earlier memos. Donald Trump is a serial leaker, even to the point of creating aliases and avatars who could leak favorable stories. He's built an entire career with phony accounts of his prowess and riches. At the same time, he's had others, usually his lawyers, who would lower the boom on anybody who dared to cross him with an article or TV blurb that didn't correspond to his ego-driven narrative.
But now that his presidency is being eroded by constant leaks, he's scorning the leakers, which is to say everybody around him, and is launching attacks on anyone who threatens his increasingly slipping hold on the presidency.
Even his network of enforcers is crumbling. One of his personal lawyers, Michael Cohen, just had his files scooped up by federal agents looking into his activities on behalf of Trump. The crimes for which Cohen is being investigated could carry several years in prison if he's found guilty, or less if he works a deal and flip on higher-ups.
President Trump is the highest-up, of course. From his lofty perch, he's tweeting like crazy, screeching that all threats to him are threats to America.
Now Cohen's spot is being backfilled by Rudy Giuliani. One prominent attorney after another wisely refused the president's request to represent him, particularly in his struggles with special counsel Robert Mueller. Now he finally has found someone well-known. Yes, he's convinced Giuliani that he can harvest the publicity he adores by taking on Trump as a client and trying to finesse Bob Mueller — or, in Giuliani's telling, use his connections with Mueller to speed things up, finish his investigation into collusion with the Russians and all things Trump and simply get it over with.
There are a couple of problems with that: For starters, Methodical Mueller has made it clear that he won't be rushed. Additionally, Giuliani himself could well be interrogated about his part in Trump's campaign activities. So, he might not be particularly useful.
Right now, there is a scramble to protect reputations, those tattered by any association with Donald Trump and those, like Jim Comey, who are taking him on. They'll do whatever it takes, by leak or crook.
—Leaked lies–