How They Voted. Illinois Representatives' Votes in Congress
Chronicle Media —

April 10, 2017
Report for week ending April 07, 2017.
UNITED STATES HOUSE OF REPRESENTATIVES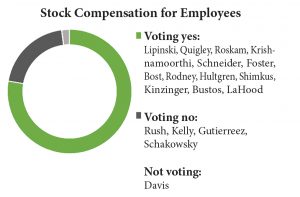 Stock Compensation for Employees: Voting 331 for and 87 against, the House on April 4 passed a bill (HR 1343) that would make it easier for private companies to offer stock compensation to employees without triggering Securities and Exchange Commission reporting requirements. At present, if the value of securities in compensation plans tops $5 million over 12 months, employers must make disclosures to employees about company finances, including risk assessments.  This bill raises the disclosure threshold to $10 million and indexes it to inflation. Companies that offer stock-compensation plans do so to reward employees and attract talent rather than raise capital.
Bill Huizenga, R-Mich., said that under the bill, "startups, small businesses and emerging growth companies will be better equipped to attract highly talented individuals from companies that are better capitalized and able to provide cash compensation."
Daniel Kildee, D-Mich., said: "Let's be clear: This stock is compensation for their work. Employees deserve to understand the value of their compensation prior to accepting it. They deserve the same protections that other investors would get."
A yes vote was to send the bill to the Senate.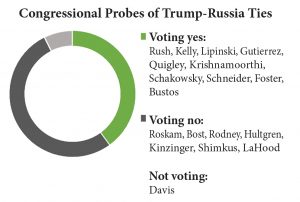 Congressional Probes of Trump-Russia Ties: Voting 185 for and 228 against, the House on April 4 refused to deny benefits under HR 1343 (above) to any company whose officers or directors have withheld from Congress information about any collusion between associates of candidate Donald Trump and Russian officials aimed at influencing the outcome of the 2016 presidential election.
Eric Swalwell, D-Calif., said: "Russia attacked our democracy this past presidential election." Members favoring corrective action should "support this amendment. If you don't, vote against it, and watch Russia and other adversaries of ours with similar cyber capabilities carry out similar attacks, and the very democracy that we treasure will erode before our eyes."
Bill Huizenga, R-Mich., said the bill was about giving "hardworking Americans an opportunity to succeed. It is not about relitigating the last election or even about (Obama administration official) Susan Rice…unmasking American citizens. This is about an underlying bill that will help American citizens."
A yes vote was to adopt the Democratic motion.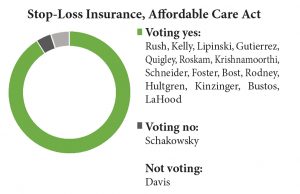 Stop-Loss Insurance, Affordable Care Act: Voting 400 for and 16 against, the House on April 5 passed a bill (HR 1304) that would prohibit regulation of stop-loss insurance as health insurance under federal laws including the Affordable Care Act. The bill is designed to help companies with self-funded health plans, which depend on stop-loss policies to protect against catastrophic losses. Backers said these policies deal only with risk-management, while critics said that by setting payment limits, they shape provisions of the self-funded health plans they back up.
Phil Roe, R-Tenn., said stop-loss insurance "does not process medical claims and it does not perform any other traditional function of health insurance. What it does instead is provide employers choosing to provide self-insurance with a financial backstop, protecting the benefits of workers and their families."
No member spoke against the bill.
A yes vote was to send the bill to the Senate.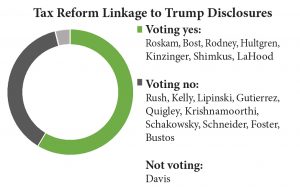 Tax Reform Linkage to Trump Disclosures: Voting 228 for and 185 against, the House on April 5 blocked a Democratic bid to force consideration of a resolution that would block action on tax-reform legislation until after the Ways and Means Committee has privately reviewed President Trump's returns from 2007-2016 to determine how proposed tax-code changes would affect his finances. The resolution was quashed by a parliamentary ruling by the presiding officer representing the Republican majority that the measure did not qualify as a "privileged question" entitled to floor action under House rules. On the vote being reported here, Republicans upheld that ruling after it was appealed by Democrats. This occurred during consideration of HR 1304 (above).
Hakeem Jeffries, D-N.Y., asked: "How can we work with (Trump) on this legislation if we do not know how the proposed reforms might financially benefit the companies or countries (with) which he has business entanglements?"
No Republican spoke on either the disclosure resolution or the parliamentary situation surrounding it.
A yes vote opposed the Democratic motion.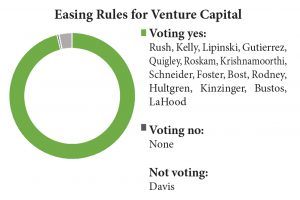 Easing Rules for Venture Capital: Voting 417 for and three against, the House on April 6 passed a bill (HR 1219) that would make it easier for individuals to form into a certain type of private investment fund without having to meet Securities and Exchange Commission registration requirements. Amending a 77-year-old SEC rule, the bill would raise from 100 to 250 the maximum number of accredited investors (those with at least $200,000 in annual income or $1 million in net assets) who are allowed in so-called "angel funds." Together, they could pool up to $10 million for purchasing non-public, unregistered securities in start-ups and other enterprises that seek capital.
The SEC's registration requirements stem from the Securities Act of 1933 (a Great Depression law), the 2002 Sarbanes-Oxley law (a response to the Enron debacle) and the 2010 Dodd-Frank law (an outgrowth of the Great Recession). They are designed to protect investors against fraudulent operators. But to spur commerce and for other reasons, the SEC occasionally grants narrowly defined exceptions to its registration rules.
Ken Buck, R-Colo., said: "Angel funds allow individuals who may not otherwise invest in startups to join together and direct their investment dollars to promising young companies. Without raising the cap on the size of these funds, we may be pushing potential investors out of the market."
Jim McGovern, D-Mass., objected to the House taking up this routine bill instead of one to fund the government after April 28, saying "no member of this body could say with a straight face that this is somehow more important than keeping the entire federal government open."
A yes vote was to send the bill to the Senate.
UNITED STATES SENATE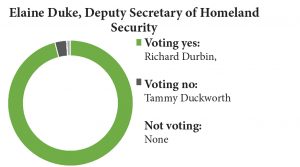 Elaine Duke, Deputy Secretary of Homeland Security: The Senate on April 4 confirmed, 85 for and 14 against, Elaine C. Duke as deputy secretary for homeland security. A budget and procurement specialist, Duke held homeland-security posts in the George W. Bush and Barack Obama administrations. The GOP-controlled Senate has now confirmed 23 Trump administration appointees, out of 553 key positions requiring confirmation, according to the Partnership for Public Service. The high vacancy rate stems from the administration's failure to send nominations to Congress.
Ron Johnson, R-Wis., said Duke is well qualified to manage the department's "240,000 men and women responsible for securing our borders and aviation system, enforcing immigration laws, defending cyberspace, preparing for disasters, assisting in counter-terrorism efforts and preventing terrorist attacks."
No senator spoke against the nominee.
A yes vote was to confirm Duke as the department's second-ranking official.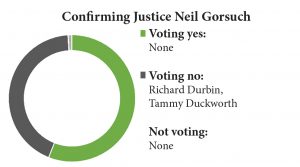 Confirming Justice Neil Gorsuch: Voting 54 for and 45 against, the Senate on April 7 confirmed Judge Neil M. Gorsuch of the Tenth Circuit U.S. Court of Appeals as the 113th justice of the Supreme Court. Gorsuch, 49, fills a vacancy created when Justice Antonin Scalia died in February 2016. The GOP majority kept the seat open during Barack Obama's final 10 months as president by refusing to act on his nomination of Judge Merrick Garland to replace Scalia.
Cory Gardner, R-Colo., praised Gorsuch as "one of the brightest jurists this country has to offer….someone who is going to take a decision where the law leads him, not somebody who is going to take an opinion or decision where his personal beliefs or politics take him. That is the kind of judge we want on the highest court."
Bernie Sanders, I-Vt., said: "At a time of massive income and wealth inequality, when so many working people throughout this country feel powerless at the hands of the wealthy…and their employers, we need a Supreme Court justice who will protect workers' rights and not just worry about corporate profits….Judge Gorsuch is not that person."
A yes vote was to confirm Gorsuch.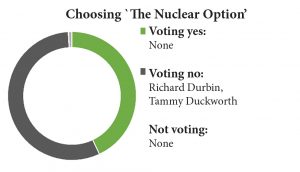 Choosing `The Nuclear Option': Voting 48 for and 52 against, the Senate on April 6 permanently changed its filibuster rules to set a simple-majority vote as the new standard for advancing Supreme Court nominations. This replaced a three-fifths majority (usually 60 votes) as the hurdle for ending filibusters against nominees to the high court. The change was dubbed "the nuclear option" because it was a politically explosive rollback of traditional minority rights in the Senate. The three-fifths threshold will continue to apply to filibusters aimed at blocking legislation.
A yes vote was to retain a three-fifths majority as the standard for invoking cloture against Supreme Court nominees. A no vote was to lower the bar to simple-majority votes.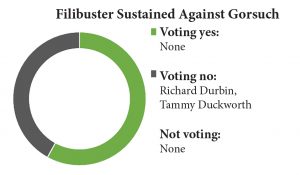 Filibuster Sustained Against Gorsuch: By a vote of 55 for and 45 against, the Senate on April 6 failed to reach the 60 votes required to end a Democratic filibuster against Judge Neil Gorsuch's Supreme Court nomination. This prompted the Republican majority to immediately vote to weaken filibuster rules (above) so that Gorsuch and other Supreme Court nominees could be confirmed by simple majority votes.
Majority Leader Mitch McConnell, R-Ky., called this "the first successful partisan filibuster in American history….a radical move…out of all proportion to the eminently qualified judge who is actually before us."
Richard Durbin, D-Ill., said that McConnell, in addition to blocking the Merrick Garland nomination, led Republican filibusters against 79 of the Obama administration's court nominees, "an abuse of the filibuster never seen before in the history of our nation…."
A yes vote was to advance Gorsuch against a Democratic filibuster.