Where to get a fresh cut Christmas tree in the suburbs
December 9, 2019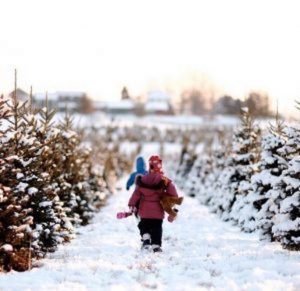 If you and your family are looking for that fresh, real Christmas tree this year, here is our guide to the tree farms in the collar counties.  Make an outing of it and make it a family tradition. (Read about the history of the Christmas tree below)
DEKALB COUNTY
Camelot Christmas Trees 
16380 Somonauk Road, DeKalb 
Craig Cinnamon Christmas Trees
13579 Howison Road, DeKalb 
815-757-0717
DUPAGE COUNTY
L & M Tree Farm
1260 E Chicago Ave., Naperville 
www.chicagoareachrist- mastree.com/
John's Evergreen
7580 S Barrington Road, Hanover Park
COOK COUNTY
Puckerville Farms
13332 Bell Road, Lemont
puckervillefarms.webs.com/tree-farm
KANE COUNTY
Kuipers Family Farm 
1N318 Watson Road. Maple Park 
The Abbey Farms at Marmion Academy 
2855 Hart Road, Aurora
Larson Family Farm
4404 Somonauk Road, Sandwich,
Ziegler's Tree Farm 
42W109 McDonald Road, Elgin
847-464-5776 (by appointment)
http://zieglerchristmastreefarm.com.
KENDALL COUNTY
Indian Creek Christmas Farm – Leland
www.indiancreekchristmastreefarm.com
Anderson Tree Farm – 
508 W. Route 126, Plainfield
LAKE COUNTY
Sullivan Family Tree Farm 2
4774 Cty A12, Lake Villa
847-989-3092
MCHENRY COUNTY
Pioneer Tree Farm 
4614 Pioneer Road, McHenry
Richardson Farm
9407 Richardson Road, Spring Grove
www.richardsonadventurefarm.com
Oney's Tree Farm
16608 US-14, Woodstock,
WINNEBAGO COUNTY
Williams Tree Farm 
4661 Yale Bridge Road, Rockton
Keith's Christmas Trees
4325 Favor Road, Rockton
Valley View Tree Farm
6440 Belvidere Road, Roscoe
The history of the Christmas tree
The decorated Christmas tree can be traced back to the ancient Romans who during their winter festival decorated trees with small pieces of metal during Saturnalia, a winter festival in honor of Saturnus, the god of agriculture.
An evergreen, the Paradise tree, was decorated with apples as a symbol of the feast of Adam and Eve held on Dec. 24 during the middle ages.
Christmas trees were sold in Alsace in 1531. Alsace was at that time a part of Germany. Today it is part of France. The trees were sold at local markets and set up in homes undecorated.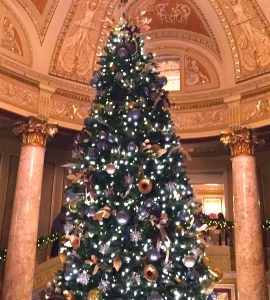 In the Ammerschweier in Alsace there was an ordinance that stated no person "shall have for Christmas more than one bush of more than eight shoe lengths."
Sixteenth century folklore credited Martin Luther as being the first to decorate an indoor tree.
After a walk through a forest of evergreens with shining stars overhead, Luther tried to describe the experience to his family and showed them by bringing a tree into their home and decorating it with candles.
Some historians state that the first evidence of a lighted tree appeared more than a century after Martin Luther's death in 1546.
The oldest record of a decorated Christmas tree came from a 1605 diary found in Strasburg, France (Germany in 1605). The tree was decorated with paper roses, apples and candies.
In Austria & Germany during the seventeenth and eighteenth centuries, the tops of evergreens were cut and hung upside down in a living room corner. They were decorated with apples, nuts and strips of red paper.
The first record of Christmas trees in America was for children in the German Moravian Church's settlement in Bethlehem, Pennsylvania, Christmas 1747. Actual trees were not decorated, but wooden pyramids covered with evergreen branches were decorated with candles.
The custom of the Christmas tree was introduced in the United States during the War of Independence by Hessian troops. An early account tells of a Christmas tree set up by American soldiers at Fort Dearborn, Illinois, the site of Chicago, in 1804. Most other early accounts in the United States were among the German settlers in eastern Pennsylvania.
In 1834, Queen Victoria's husband, Prince Albert, was credited with bringing the first Christmas tree to Windsor Castle for the Royal Family. Some historians state that in actuality Queen Charlotte, Victoria's grandmother, recalled that a Christmas tree was in the Queen's lodge at Windsor on Christmas Day in 1800.
Charles Minnegrode introduced the custom of decorating trees in Williamsburg, Virginia in 1842.
By 1850, the Christmas tree had become fashionable in the eastern states. Until this time, it had been considered a quaint foreign custom.
Mark Carr brought trees from the Catskills to the streets of New York in 1851, and opened the first retail Christmas tree lot in the United States.
Franklin Pierce was the first president to introduce the Christmas tree to the White House in 1856 for a group of Washington Sunday School children. The first national Christmas Tree was lighted in the year 1923 on the White House lawn by President Calvin Coolidge.