Realize savings on food costs with these practices
By Jamie Mahlandt Financial Educator Extension Services —

May 22, 2023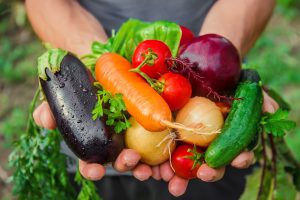 As food is necessary for everyone, it is an important expense in your regular budget. Some ways to minimize your food expenses may be to keep a list of necessary groceries and stick to the list when shopping. With the option of online grocery ordering that includes pick-up services, you may be able to avoid the temptation of spending on extras that were not part of your plan.
Home Gardening
In addition to food/grocery budgeting, gardening may be a way to reduce food costs. Are you planning a garden this year? With the rising cost of groceries, everyone's food budget is taking quite a hit. Gardening may be able to supplement your daily diet while keeping your food expenses down. According to Langellotto (2014), research suggests that home gardening as a hobby (not counting the fair market value of the cost of labor) is profitable as the value of the produce typically exceeds the cost of materials and supplies. If you are new to gardening, University of Illinois Extension provides abundant resources on how to get started and maintain a successful garden.
What fruits and vegetables will you plant if you decide to try gardening? The Farmer's Almanac online (2022) suggests that beans, squash, kale, beets, peppers, and tomatoes may be money-saving crops as the store prices may be high relative to the ease/cost of growing. Just like with financial goals, plans, and budgeting, a cost-saving garden's success depends on the personal values of the home gardener. While some fruits and vegetables may be much cheaper to grow versus buy at the store, you may want to focus on growing crops you regularly purchase and consume.
Home gardening does have some start-up investment costs, such as the seeds, soil, and tools. There may be opportunities to minimize these costs, such as local seed swaps or participating in local community gardens. Some local community gardens are in Centralia, Mt. Vernon, and Salem, IL.
Food Waste
According to the United States Department of Agriculture (USDA), the average U.S. family of four wastes about $1,500 in uneaten food every year. Keep this in mind when throwing out food because it does impact your budget. Some strategies to prevent household food waste are to plan out your meals, pay attention to portion sizes, and save leftovers that are prioritized when eating later.
Focusing on eating leftovers and shopping in your pantry before making new meals are great tips, but sometimes having surplus food is inevitable, especially for avid gardeners. When you have more food than your household can consume, there may be ways to safely store and/or preserve food items for future use. The University of Illinois Extension has the most up-to-date information on properly storing and preserving food for future consumption.
Food costs are rising, so pay attention to how you can save. Plan your grocery list to avoid excess spending, plan your meals to utilize ingredients on hand (shop your panty), eat leftovers first, and investigate home gardening if you are interested.