Bellwood Library turns page on law firm
By Kevin Beese Staff reporter —

September 25, 2017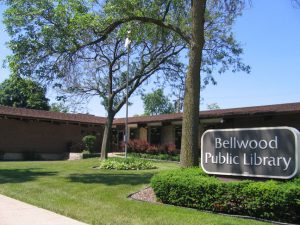 The Bellwood Public Library is back in compliance with required state paperwork and, at the same time, sent its former law firm packing.
Members of the Library Board hadn't met for nearly seven months due to a power struggle between the board's old guard and newly elected representatives. Nine consecutive scheduled meetings were either canceled or never took place due to the lack of a quorum (a majority of the elected officials showing up).
Prior to the Library Board's Sept. 12 meeting, the last time the board had conducted business was Feb. 14.
Because of an ongoing cat-and-mouse game with board members on both sides failing to show up when they thought the other had the votes to get things done, things like the state's annual Prevailing Wage Policy, stating that the library expected contractors to pay workers prevailing wage rates, were not filed by their June 30 deadline. The library was not assessed any penalties for the various documents not being filed on time.
After a lengthy closed session at their Sept. 12 meeting, Library Board members ousted the Stuttley Group as the library's law firm.
In a 5-1 vote, Library Board members opted to discontinue their association with the Stuttley Group of Homewood and instead use attorney Dalal Jarad of Schaumburg for its legal dealings. Board member Mary Clements voted against the move. She declined to comment on her vote following the meeting.
Voting for the switch in legal teams were board members Dorothy Clark-Smith, Janice English, Deborah Giles, Connie Riales and Gloria Ward.
Newly appointed trustee The Rev. Michael Horton was not at the meeting.
"We were in a very difficult situation," Library Director Jacqueline Pratt said of the change in library lawyers. "We had a lot of legal problems and no attorney representing us in these cases."
"This lady will represent us," Pratt said of Jarad. "She will be able to answer our questions."
Sources told the Chronicle that legal questions put to the Stuttley Group from library staff and board members often went unanswered, without even a return telephone call.
"She wants to work," Spratt said of the library's new lawyer. "We are not paying someone who does
whatever she wants. She is going to be doing things for us."
Board members said Jarad was suggested to them by a member of the umbrella group Reaching Across Illinois Library System (RAILS). Jarad provided free legal services on behalf of the library director during recent proceedings in Cook County Circuit Court, board members noted. Board members praised the attorney as being "available."
"You can call her anytime," said Clark-Smith, the newly elected board president, another task the Library Board was supposed to address months ago.
Jarad had been the legal counsel for the Maywood Park Board for two years before being terminated in 2015 for a higher-priced personal injury lawyer with no municipal law experience.
Jarad has received more than $6,000 in legal fees from organizations associated with Chicago Ald. Carrie Austin (34th Ward).
According to the Illinois Campaign for Political Reform, a campaign finance watchdog group, Jarad has received $6,020 since 2011 for legal work done for Citizens for Carrie M. Austin – Alderman 34th Ward, Friends of Carrie Austin 34th Ward Committeeman and the 34th Ward Regular Democratic Organization.
Riales said changing law firms is just another step toward improving transparency between the library and residents.
"We want to work as a team," said Clark-Smith, who along with Giles, also serves on the Bellwood District 88 School Board. "We are here to serve."
Giles agreed.
"It is a privilege to serve Bellwood. We want to do very positive things for the community," Giles said. "I am happy we had our first meeting. People are going to see some things moving in a different direction."
Free subscription to the digital edition of the Cook County Chronicle
Read the current issue of the Cook County Chronicle
— Bellwood Library turns page on law firm  —–