Hundreds rally in Chicago for the impeachment of Trump
By Kevin Beese Staff Reporter —

December 18, 2019

Pablo and Luiza Castillo held their two boys on the shoulders Tuesday night in Federal Plaza in Chicago as hundreds of people rallied on the eve of an impeachment vote in the U.S. House.
Despite the cold temperatures, the Castillos felt it was important to be at the rally, with their boys.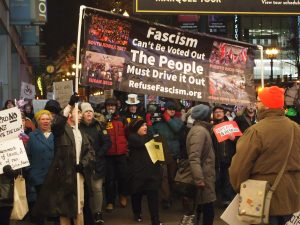 As speakers talked about the importance for continued vigilance and action, David Stenzel held up a sign saying "Merry Impeachment," which was a huge hit with those in the crowd, many snapping photos of him and his sign with their phones.
The Chicago resident said he felt it was important to be at the rally to send a message.
"We need to keep working to get Donald Trump and Mike Pence out of office," Stenzel said.
Following the Federal Plaza rally, a crowd estimated at 400 people by Chicago police, marched peacefully on sidewalks east on Adams Street, north on State Street and east on Wacker Drive until across the Chicago River from Trump Tower, where another brief rally was conducted.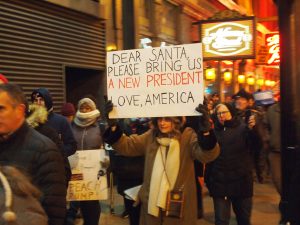 The U.S. House of Representatives is scheduled to vote Wednesday on Articles of Impeachment against the president.