DeKalb's ghost bank now houses Chamber of Commerce
April 6, 2016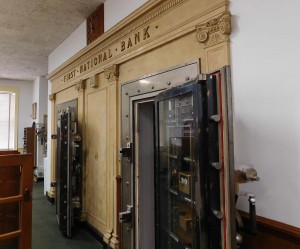 The First National Bank of DeKalb closed its grey stone two-story location at the southwest corner of Lincoln Highway and Second Street more than 40 years ago.
Now in use by the DeKalb Chamber of Commerce, the main floor still appears ready to serve customers with preserved teller windows complete with mechanical adding machines and two safes in the rear.
The building still has beautifully preserved wood trim, marble floors, a vintage water fountain and even old-style push-button light switches. (Photos by Jack McCarthy / Chronicle Media).
— DeKalb's ghost bank now houses Chamber of Commerce —