UPDATE: Hinsdale District 86 classes back in session Friday
Chronicle Media —

March 12, 2020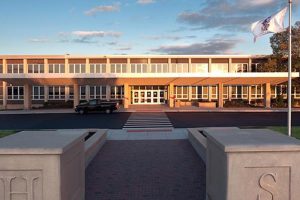 Schools in Hinsdale High School District 86 will be back in session Friday, March 13.
Classes were canceled Thursday after the administration learned a student may have been exposed to the coronavirus.
The district announced on its Twitter page Thursday afternoon that the student from Hinsdale South had since been tested and the result was negative for the virus.
Hinsdale Central is the other high school in the district.
Tammy Prentiss, superintendent of Hinsdale Township High School District 86, posted a letter to parents early in the morning on March 12 announcing the decision to close that day.
"Although the family of the Hinsdale South student who may have been exposed to COVID-19 is still waiting for test results, we have decided to cancel classes at Hinsdale Central, Hinsdale South and the Transition Center on Thursday, March 12 (the district's administration building will be open). By making this decision now, our students, staff and families will have additional time to plan accordingly in response to the closure.
"In addition to classes, all events and activities scheduled for March 12 have been canceled. We will work with the Illinois High School Association to determine the status of the Sectional semifinal basketball game between Hinsdale South and Benet Academy that was postponed on Wednesday night.
"While we would normally utilize a Remote Learning Day in this situation, the timing of the notification limited our ability to plan a productive e-learning experience for our students. As a result, we will be using an emergency day tomorrow, and will work with our staff to prepare for the use of Remote Learning Days should we need to remain closed. Please know that any decision to cancel school for an extended period of time will be decided with the assistance and guidance of the Illinois Department of Public Health.
"We will provide you with an update as soon as possible tomorrow. In the meantime, we thank you for your patience and understanding as we navigate this challenging and fluid situation."