Aurora police, fire investigate fire at vacant former Copley building
By Erika Wurst For Chronicle Media —

April 26, 2017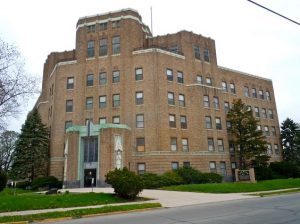 Aurora firefighters responding to a structure fire at the old Copley Hospital building on Friday said the blaze was intentionally set to a pile of debris.
Six teens, who denied starting the fire, were charged with criminal trespass after they were found fleeing the scene.
According to Aurora Fire Department Captain Jim Rhodes, multiple calls reporting a structure fire at the vacant hospital in 500 block of S. Lincoln Ave. began coming into 9-1-1 around 6:45 p.m. When crews arrived, they found smoke showing from the roof area of the 7-story structure.
A fire, that investigators concluded was intentionally set to a pile of debris, had broken out in an upper-floor room, Rhodes said.
It took 19 firefighters approximately 30 minutes to extinguish the blaze.
Rhodes reported that there were several reports of minors fleeing from the structure after the fire started.
Responding officers from the Aurora Police Department located and charged six juveniles with criminal trespass to land. The six included two 15-year-old boys, three 16- year-old boys and a 16-year-old girl; all of whom denied starting the fire. All six were released to their parents.
There were no reported injuries, and due to the structure being vacant for many years there was no dollars loss caused by the fire.
The morning of the fire, Aurora Police took to Facebook to highlight the dangers of "urban exploration".
Aurora Police Department spokesman Dan Ferrelli said the teens told police they knew they shouldn't have been inside the vacant building, but that they wanted to explore anyway.
"We're aware of a couple of the structures in Aurora that have become popular for Urban Exploring (or for chasing myths and rumors.)," Ferrelli wrote in his Facebook post. "They can tax our resources for people who are actually in need of emergency help and put our officers and the community in danger."
Police warned that trespassers will be arrested.
"Please do everyone (including yourself) a favor, don't enter abandoned buildings for any reason and if you do see people trespassing, call 9-1-1," Ferrelli said.
Possible hazards of entering an abandon building include uneven/unstable floors, missing staircases and empty elevator shafts, broken glass, mold, mildew and rats.
Poor cell phone service inside these buildings can also make it difficult or impossible to call for help should you need it.
Those caught trespassing will face up to a year in jail and hundreds of dollars in fines, police warned.
"Yes, it is illegal. Yes, it is criminal trespassing. And most importantly it is very dangerous," Ferrelli said.
— Aurora police, fire investigate fire at vacant former Copley building —