Minivan crashes into Aurora ambulance, multiple people injured
By Erika Wurst for Chronicle Media —

May 17, 2018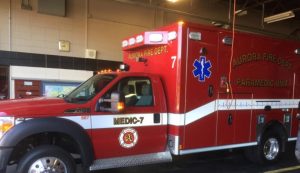 Ten people were transported to the hospital with injures Wednesday evening (May 16) following a two-vehicle crash involving a minivan and an Aurora Fire-Department ambulance, Aurora police said.
The crash occurred around 4:05 p.m. at the intersection of Galena Boulevard and West Street where the 2002 Chrysler Town and Country minivan, occupied by eight people, was t-boned by the ambulance.
The ambulance was transporting a 16-year-old female patient and had its lights and sirens activated as it traveled westbound on Galena Boulevard.
Aurora Police Department spokesman Dan Ferrelli said a preliminary investigation showed that the minivan, driven by a 25-year-old Chicago man, was traveling southbound on West Street and apparently did not see the stop sign at Galena Boulevard. He continued to travel through the intersection and was struck on the van's driver's side.
The driver had to be extricated by firefighters and was transported to an area hospital, Ferelli said.
The minivan was also occupied by seven other people: three females ages 3, 12, and 20; and four males: twin 1-year-olds, and a 5- and an 11-year-old. Everyone inside the van was transported to Aurora hospitals for treatment.
One of the 1-year-old twins and the 11-year old boy were later flown to a suburban hospital for treatment of life-threatening injuries.
As of May 17, everyone involved had been released from the hospital, except the two children who were flown out for further treatment. Their condition has improved from critical to stable.
The ambulance driver, a 36-year-old Aurora Fire Department Paramedic, was treated at an Aurora Hospital for minor injuries. His 28-year-old male team member was in the cabin of the ambulance treating  his teenage patient when the crash occurred. He refused medical treatment.
The teen sustained no new crash-related injuries and was transported to the hospital by a different ambulance.
Ferrelli said there were no outward signs of alcohol or drug use at the scene.
The driver of the minivan was issued citations for failure to yield at an intersection and failure to secure a child in a child restraint seat.